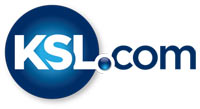 3 Payson brothers construct virtual reality motion simulator in basement
January 3, 2018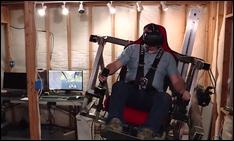 PAYSON — It was already dark Tuesday, cars were parked out front, and a white glowed emitted from the front window. Nothing from the outside made this home stand out from any of the others surrounding it.
Inside, however, it was a completely different reality.
The garage had been transformed into a machinist's workshop, with an industrial-grade lathe at its core.
"I'm happiest when I'm building something," smiled Caleb Chamberlain, the electrical engineer who dwells in this space. "It's always something."
He had machined numerous "somethings" before — namely clocks — but what now stood in his basement was a definite first: a virtual reality motion simulator — at least the first "working prototype" — was now complete.
He said the 500-plus-pound structure — complete with VR headset, controls, red seat and race car-style seatbelt — took roughly a year to get to this point.
"You can actually see what he sees flying the space ship down the canyon there," Caleb Chamberlain said of the simulation he wrote himself, as it shined on a nearby computer that was tethered to the simulator occupied at the time by his brother, Jacom. "As he moves the stick, the motion simulator actually moves in the same way that it moves inside the game."
Caleb Chamberlain said he, Jacom and his other brother, Bryson, decided last year that this was the project they wanted to do next. Hundreds of man hours later, the simulator seemed to move seamlessly with its pilot.
"It's pretty intuitive," Jacom Chamberlain said. "You know what you want to do and how to do it."
It's still a work in progress, though, but Caleb Chamberlain said "eventually you'll be shooting at stuff and you'll fly around dodging things and enemies." Caleb Chamberlain also plans to install features so pilots would feel it when they crashed into mountains.
Where the project goes from here, though, remains uncertain. Caleb Chamberlain said he would like to "build a community" around the simulator and gauge public interest. A full build-out of a unit was likely to cost in the range of $6,000.
"I hope people look at it and think, 'I want to try it!'" he said.
Regardless, the motion simulator — like his other creations — has had its own merits, including simply working on an idea at length to make it a reality.
"That's the most rewarding time, I think," Caleb Chamberlain said