PROVO —They laid LaVell Edwards to rest on Saturday. The pioneer of the modern passing game in college football drew quite a crowd.
They came from all over the nation this weekend. The head coach of the Kansas City Chiefs stepped away from the NFL playoffs to be here. There was a Heisman Trophy winner. A handful of Super Bowl champions. Many All-Americans. Dozens of national champions. Hundreds of conference champions from the 1960s, '70s, '80s and '90s. They are the Sons of LaVell Edwards.
Football, however, hardly came up at Edwards' funeral.
"He cared about football, sure," grandson Geoffrey Cannon said, "but he cared about his faith, his family and people more."
Edwards led BYU to 257 wins between 1972 and 2000, 19 conference championships and a national championship in 1984, but his son-in-law, Ken Cannon, thanked God in a prayer for the coach's passion for his family, his players, his fellow coaches, his community, Heavenly Father and Jesus Christ, and for his "unwavering strength, compassion and righteousness, his unflagging humor and kindness."
Edwards, a member of the College Football Hall of Fame, died Dec. 29 at age 86.
"He was a hall of fame man," said Brian Santiago, bishop of the Mormon congregation where Edwards was a faithful member. "What he wanted most was to inspire us, motivate us and lead us to follow the Lord Jesus Christ. He wanted to be right with the Lord and left this earth ready to return to our Father in Heaven."
Father and friend
Snow rested heavily on branches, and the cold froze Santiago's tears at the graveside service, but during the funeral the smiles, hugs and handshakes were warm inside the massive chapel of the Provo Multi-Stake Center.
"My father loved everyone," said Edwards' son, John, who shared stories about how his father taught him to live, love, laugh and learn. "I think he was the Will Rogers of coaching. I don't think he met a coach he didn't like. I don't think he met a player he didn't like. I don't think he met a person he didn't like."
John said his father was the funniest man he's ever known. When he called bingo games for the family, he wouldn't just call out B9. "He'd look at the number, bite his tongue like he always did, then ask, 'What's the best news you can get from the doctor?' And then he'd say, 'B9.'"
A month ago, Edwards gave his other son, Jim, who was visiting from Las Vegas, a priesthood blessing.
"I knew time was short," Jim said, "but I didn't know it was this short. I asked for a father's blessing. He was sitting on the bed and I was sitting on the floor. He put his hands on my head, and I felt love. Then he asked me to give him a blessing. It was very tender."
Edwards' daughter, Ann Cannon, lyrically described his loving, exemplary, 65-year marriage to Patti Covey Edwards.
At the graveside, Patti and the couple's 14 grandchildren and 11 great-grandchildren wrote farewell messages on the lid of the burial vault.
"Miss you, darling," Patti Edwards wrote. "You are my life! Love you with all my heart."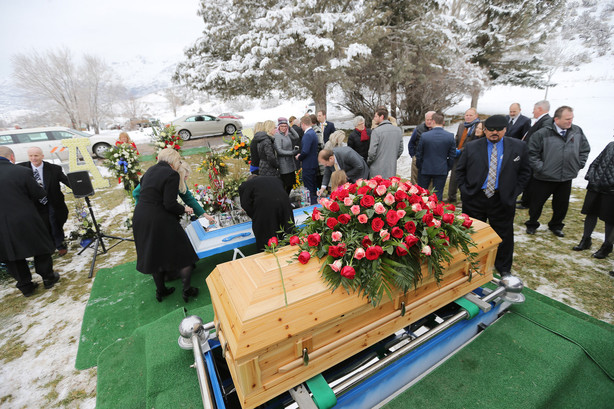 He came to pass
The coach's role in popularizing the pass in college football is well known. In a new book, "The Perfect Pass," the creator of the Air Raid offense popular today described how it is really a sped-up, spread-out version of the Edwards offense, and how he learned many of the concepts from Edwards and the BYU staff over several years.
Throwing the ball before it was popular gave BYU an advantage that helped Edwards make up for a lack of talent. It wasn't his only innovation.
His son Jim remembered that Sports Illustrated once called Edwards "the most hated man in Hawaii," because he pioneered mainland recruiting of Hawaiian players — and Samoans and Tongans — which blessed his family's life and the BYU football program. Today, more than 250 Polynesians play on NFL and college football rosters.
Edwards also reversed the hostility toward Mormon missions that existed in the program.
"I have known and admired LaVell Edwards for 45 years," said Elder Dallin H. Oaks, a member of the LDS Church's Quorum of Twelve Apostles and the president of BYU in 1972. "As I look back on my service at BYU, I've always put the fact that I appointed him as the football coach among the very most significant things in which I took pride."
Elder Oaks said he charged Edwards "to change the impression that returned missionaries couldn't (be) productive, effective, contributing football players." That transition would be enormous, because Edwards' predecessor "basically would not have returned missionaries on the football team."
Paul Gustavson, who walked on to Edwards' first team in 1972, said there was a single returned missionary in the program at the time. The coach's response, Elder Oaks said, was steady and gradual, but sensational. The 1984 national championship team had 52 returned missionaries. This year, BYU had 79 returned missionaries on its team, and another 83 played for 15 other college teams.
"He turned it around at BYU," Elder Oaks said, "and he turned it around for the football culture in the United States. What a sensational response."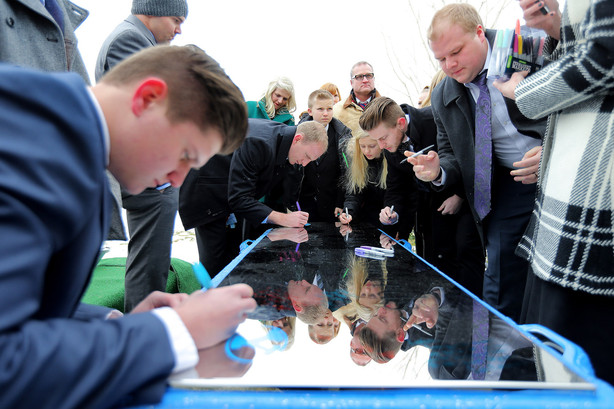 Thanks, Denver
"I thought it was a great service," NFL head coach Andy Reid said. "The turnout was phenomenal."
Reid was able to make the trip because his Kansas City Chiefs earned a bye on this first weekend of the NFL playoffs when the Denver Broncos beat the Oakland Raiders.
"It's the only time I'll probably thank the Denver Broncos for anything," he said with a laugh.
Edwards brought his wife, Patti, with him to recruit Reid from a junior college in the late '70s. "You fell in love with the guy," Reid said. "We don't have enough like him. The way he conducted himself is unique to the profession. He made everybody feel comfortable.
Reid spent two years as a graduate student assistant coach under Edwards at BYU. Then Edwards helped him get an assistant coaching jop at the University of Texas at El Paso.
"He helped me get every job I've ever had," Reid said. "I always told them, call Coach Edwards."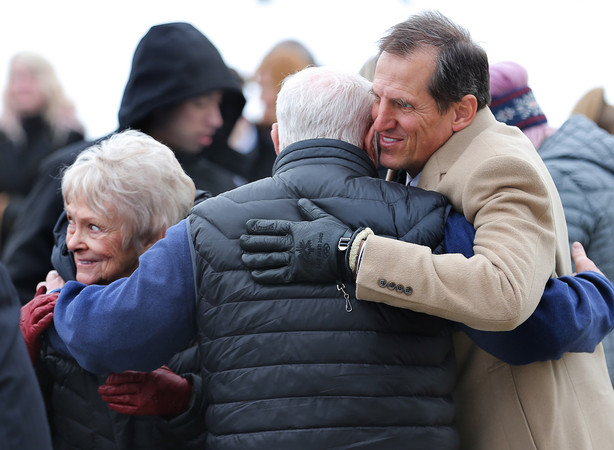 Other coaches at the funeral included Virginia head coach and former BYU head coach Bronco Mendenhall; Utah head coach Kyle Whittingham, who played for Edwards; former Utah coach Ron McBride and former BYU offensive coordinators Norm Chow and Ted Tollner.
Other dignitaries included Utah Gov. Gary Herbert and U.S. Sen. Orrin Hatch, R-Utah.
Peaceful view
You can't see LaVell Edwards Stadium on the BYU campus from Edwards' grave in the Eastlawn Memorial Cemetery in Provo, but each fall, fans driving from Orem down University Avenue to Cougar games will pass below it. It also has an expansive view of Orem, where Edwards grew up.
A police escort took the Edwards family to the gravesite on Saturday afternoon, where Lewis Edwards, the coach's brother, dedicated his grave as the resting place for Edwards' body until the Resurrection.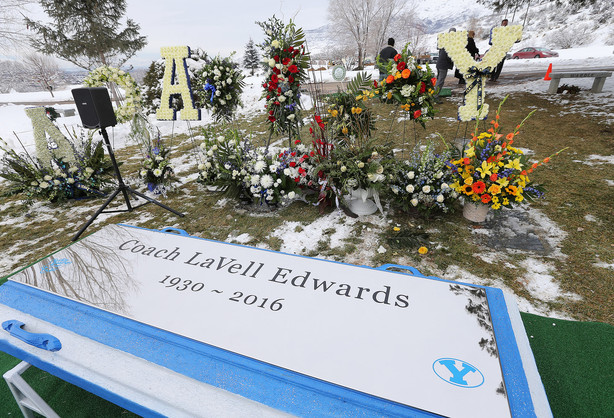 Santiago, Edwards' bishop and BYU's senior associate athletic director, said Edwards lives on.
"I testify of the literal truth of the Resurrection," Elder Oaks added, "that those whom we mourn in services like this, we will see again."
President Henry B. Eyring of the First Presidency, the LDS Church's leading governing body, said Edwards proved that the gospel of Jesus Christ and excellence can go together.
He also spoke directly to Patti.
"I'm grateful to have seen the great work your husband did, way more than football, way more than giving us an example of how to be tough and strong and do every good and noble thing. ... Heavenly Father and the Savior are so pleased to have this great man with them in true service. I'm really sure of that. I hope that will give you some comfort and confidence."


Photos
Related Stories
0 Pending Comments
Sorry, we are not accepting new comments on this story, but if you have more to contribute please email
newstip@ksl.com
Showing of 11 comments
Sorry, we are not accepting new comments on this story, but if you have more to contribute please email
newstip@ksl.com