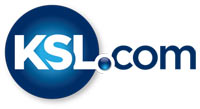 Despite national decline, Utah student performance 'holding steady'
November 1, 2015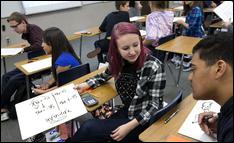 SALT LAKE CITY — Utah was one of only four states that improved its eighth-grade math proficiency rates on this year's National Assessment of Educational Progress.
In fact, Utah's place among other states improved in all areas of NAEP, a test administered every two years to fourth- and eighth-graders nationwide to enable state-by-state comparisons of reading and math proficiency. But Utah's modest gains this year aren't the primary reason for the state's higher rankings.
National average scores on the exam declined by one point in fourth-grade math, three points in eighth-grade math and two points in eighth-grade reading, with no change in fourth-grade reading, according to 2015 NAEP results released Wednesday. It's the first time eighth-grade math scores have dropped since the assessment began in 1992.
In contrast, Utah scores improved by two points in eighth-grade math and three points in fourth-grade reading, with no change in fourth-grade math and a one-point decrease for eighth-grade reading.
As a result, Utah's national rank for math went from 26th to 20th in fourth grade and from 28th to 16th in eighth grade. For reading, Utah went from 27th place to 14th for fourth-graders and from 15th to 10th in eighth grade.
It's a boost more or less by default.
"We jumped up considerably in all four areas, but it's kind of hard to take a whole lot of pride in that knowing that mostly we're holding steady, with the exception of fourth-grade reading, and the nation is declining," said Mark Peterson, spokesman for the Utah State Office of Education. "We'd be much prouder of it if we were all increasing."
But Utah's proficiency gains show genuine improvement, Peterson said, especially in fourth-grade reading. The "real driving engine" of those gains was "statistically significant" proficiency increases among Hispanic students, he said.
Reading scores for Utah's Hispanic fourth-graders rose from 196 to 204 between 2013 and 2015, with proficiency rates rising from 14 percent to 19 percent. White students in the same category improved from 229 to 231 points, with proficiency increasing from 43 percent to 45 percent.
Utah has historically had one of the largest achievement gaps between majority and minority students, but education leaders are pleased the state is trending toward improvement.
"While there are still unacceptably large student achievement gaps based on race and ethnicity, all Utahns can be pleased that the gap — at least in fourth-grade reading — is narrowing, and that it is not coming at the expense of high-performing students doing worse," state superintendent of public instruction Brad Smith said in a prepared statement.
NAEP is administered to about 10 percent of Utah's fourth- and eighth-graders in a sample that reflects the average demographic makeup of students in the state. It doesn't provide data on specific schools or districts, but rather, it gives educators and policymakers a tool to compare academic attainment across the country.
"It is currently the best we have when it comes to comparing state to state," said David Crandall, chairman of the Utah State Board of Education. "It'll give you an idea of how well you're doing overall in comparison to other states, but as far as specific actionable data, it doesn't really help there."
Peterson said it's difficult to pinpoint specific reasons that account for national downturns. But some educators hypothesize that because NAEP hasn't changed since states began adopting the Common Core State Standards for math and English, the test may now be misaligned with curriculum in the classroom.
A study published this week by the American Institutes for Research found a "reasonable agreement" overall between NAEP and the Common Core, but subjects such as algebra and geometry, among others, had a "match rate" of less than 70 percent.
Almost all states, including Utah, saw a drop in the geometry portion of this year's NAEP test.
"It may be that NAEP is no longer testing what is being taught," Peterson said. "There is some evidence of that, but it's not conclusive."
Utah educators, however, say student proficiency scores on NAEP speak to the rigor of Utah's locally developed year-end exam, known as SAGE, which produced similar proficiency rates.
A report published in May that measured the "honesty gap" between state assessments and the national exam lauded SAGE as "the gold standard of student assessment" because of the high bar it sets for students. In contrast, Georgia, for example, had more than 90 percent of students score proficiently on its state exam but less than 40 percent score proficiently on NAEP.
Crandall said the state and national assessments provide different data points for educators, but they both confirm the need for continued improvement.
"I think with the additional level of scrutiny that we're giving in terms of our new standards and our new assessments, really we want an accountability system that everyone can have confidence in," he said. "The main takeaway is that we're encouraged by the modest improvements that we have seen, but we also realize that there is plenty of room for improvement, especially in our at-risk populations."