Estimated read time: 2-3 minutes
This archived news story is available only for your personal, non-commercial use. Information in the story may be outdated or superseded by additional information. Reading or replaying the story in its archived form does not constitute a republication of the story.
Tracie Potts, NBC News The Food and Drug Administration wants doctors and patients to know sleeping pills can have some dangerous, even fatal, side effects. Today, the FDA announced it's asking drug makers to beef up their warnings.
The FDA has received more than a dozen reports of people doing strange things--eating, cooking, even driving after taking prescription sleep aids.
Russell Katz, M.D., FDA Division of Neurology Products: "People get up, they get their car keys and they go drive. This is very different than getting up and taking two steps and walking into a wall or falling down the stairs."
Patients also report severe allergic reactions. The FDA says problems often happen after taking the pills with other drugs or alcohol. The agency wants manufacturers of all 13 prescription sleeping pills to note these rare side effects on their labels.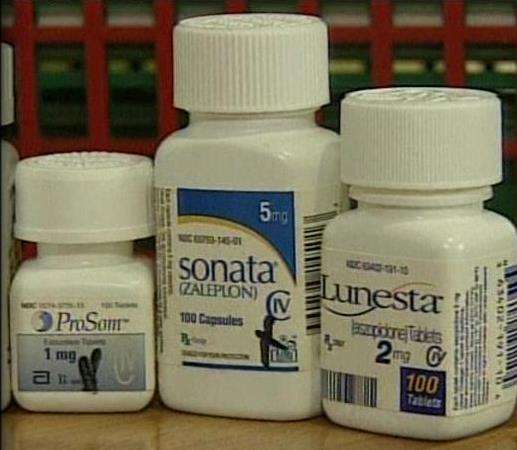 The sleeping pills affected by this warning are: Ambien, Butisol Sodium, Carbrital, Dalmane, Doral, Halcion, Lunesta, Placidyl, Prosom, Restoril, Rozerem, Seconal and Sonata.
Sleep disorders expert Dr. David gross hopes that won't scare patients away.
David Gross, M.D., Washington Hospital Center: "If someone needs these medications I don't think they shouldn't take it because of this possible problem. But it's like anything else, nothing is without risk."
The FDA won't say exactly how many people were affected. In a statement, Sanofi-Aventis, the maker of Ambien, says less than one in 1,000 patients in its clinical trials experienced sleep walking. The National Sleep Foundation fears many people unknowingly use sleep aids when they shouldn't.
Richard Gelula, National Sleep Foundation: "If you have sleep apnea, in which you stop breathing while you're sleep, one of the worst things you can do, and endanger yourself, is take a sleep aid."
One more thing to keep you awake in the quest for a good night's sleep.
Doctors should be getting letters about the new labels this week. The FDA also is creating a patient guide that will soon be available at your local pharmacy to better explain the side effects.
×
Most recent Utah stories