Estimated read time: 2-3 minutes
This archived news story is available only for your personal, non-commercial use. Information in the story may be outdated or superseded by additional information. Reading or replaying the story in its archived form does not constitute a republication of the story.
Carole Mikita ReportingThe bells pealed for 15 minutes, and the new bishop made a symbolic entrance into what has become his cathedral.
Nearly a thousand people filled the Cathedral of the Madeleine Wednesday afternoon as Utah's Catholics welcomed their new bishop, John C. Wester. The Pope sent his representative. Government leaders and representatives of other faiths were also there.
The community waited for more than a year for Wednesday's installation Mass. The ceremony was, at times, solemn, certainly symbolic and also filled with joy.
As the door opened, John Charles Wester entered a new life. Many celebrated with him. Invited guests included two Cardinals and more than 40 bishops from throughout the western U.S.
Theodore Cardinal McCarrick, archbishop emeritus, Washingon, D.C.: "We're all family, as you know, and this is a wonderful part of the family. They're getting a good shepherd, a good friend and a good pastor."
Most Rev. George H. Niederauer, archbishop of San Francisco: "I almost love Utah enough to send him over, but the emphasis is on almost. No, it's a wonderful appointment, it's a wonderful match."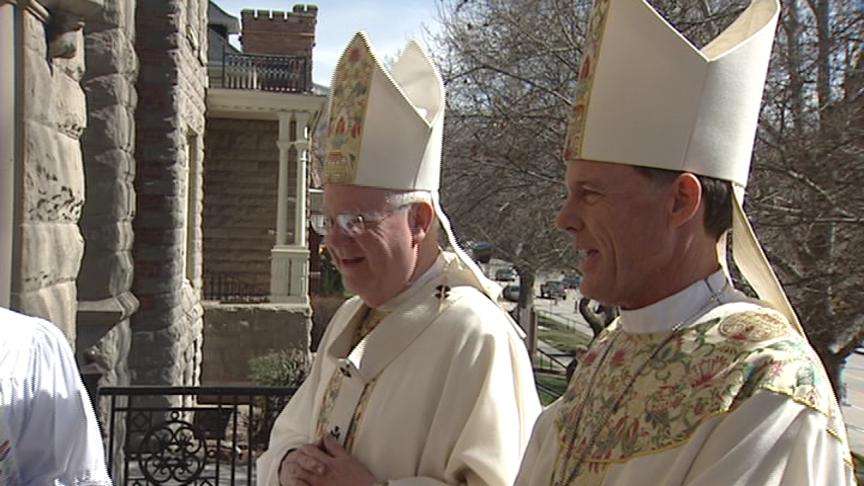 The Apostolic Nuncio read a message from the Pope, who chose the ninth bishop of the Diocese of Salt Lake City. As he reached out in friendship to those of other faiths, they welcomed him.
Elder M. Russell Ballard, Quorum of the Twelve Apostles: "We're honored to be here. It's a great event for dear friends."
Hundreds of the more than 200,000 faithful gathered early Wednesday morning, calling him the right man at the right time.
Suzie Brown, member of diocese: "I think his experience as a leader coming from San Francisco will be of great benefit to our diocese here."
James Goates, member of diocese: "I'm kind of excited because I'm soon getting confirmed, and he's going to come down and do the confirmation."
As the ceremony ended, the responsibility descended, but still he wore a smile.
Most Rev. John C. Wester, bishop of Diocese of Salt Lake City: "It was just wonderful, lovely ceremony, a lot of graces, wonderful people. Good to be here. I love Utah."
Thursday Bishop Wester gets to work.
KSL-TV will present an hour-long special titled "Shepherding the Flock: the Installation Mass for Bishop John Charles Wester." That will air this Sunday, March 18, at 10 a.m.
×
Related links
Most recent Utah stories