Estimated read time: 2-3 minutes
This archived news story is available only for your personal, non-commercial use. Information in the story may be outdated or superseded by additional information. Reading or replaying the story in its archived form does not constitute a republication of the story.
Amanda Butterfield ReportingA few weeks ago some Utahns had a scary run-in with a whale; they all survived, but it was close.
What a couple from Sandy experienced was not an attack, it was just a freak accident involving a 40-ton whale and its calf.
Randy Thornton, survivor: "It's one of those bizarre things that never happens, like getting hit on the head with a meteor or something."
Randy Thornton can smile about his freak encounter with a north Atlantic humpback whale now, but when it happened, it wasn't funny. Randy and his wife Gwen were snorkeling in the Dominican Republic.
Video taken from the boat, Turks and Caicos Agressor II, shows how close they were to a sleeping mother with her calf on its back. The mother started to surface right under Randy, his wife and other snorkelers.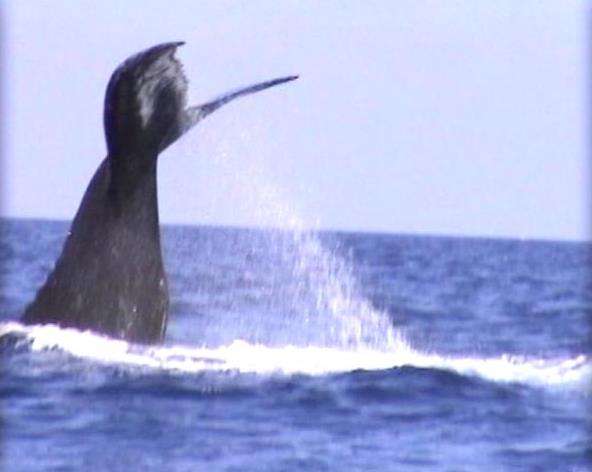 Randy Thornton: "The calf woke up and got spooked, spooked mom, woke up [and] thought we were trying to hurt the calf or something, and that's when all the craziness happened. The mother whale flipped its tail really hard and knocked my wife, Gwen, 20 feet away. Another woman was knocked unconscious. The tail of mother whale hit me in my thigh really hard and just snapped my leg like a twig."
Eventually Randy got back in the boat and had a nine-and-a-half-hour boat ride back to land, where he underwent surgery.
Randy Thornton: "I had a three-and-a-half-hour surgery while I was awake the entire time. They had no power tools, so they cut my bone with a hack saw. Then they took a sledge hammer and pounded that steel rod down through my bone. It was pretty intense."
The surgery was a success, and Randy will recover. He's got a lot of rehabilitation in front of him, but when he's done, Randy has big plans.
Randy Thornton: "As soon as I'm physically able to, I'll be back in the water immediately."
Next dive Randy has planed is in September in Papua, New Guinea.
Another Utah woman who was hit by the whale's tail was knocked unconscious and suffered a concussion and brain swelling; she's going to be OK, too.
×
Most recent Utah stories