Estimated read time: 2-3 minutes
This archived news story is available only for your personal, non-commercial use. Information in the story may be outdated or superseded by additional information. Reading or replaying the story in its archived form does not constitute a republication of the story.
PLEASANT GROVE -- Emergency crews evacuated several homes in Pleasant Grove Thursday evening after a house exploded. It happened next door to the Purple Turtle on State Street.
Pleasant Grove Marshal Chief Steven Brande said dispatch began receiving reports of an explosion around 7:30 p.m. Thursday. When crews arrived, they found the home at 385 E. 100 South completely destroyed.
The building is a single-level structure and is believed to have been unoccupied.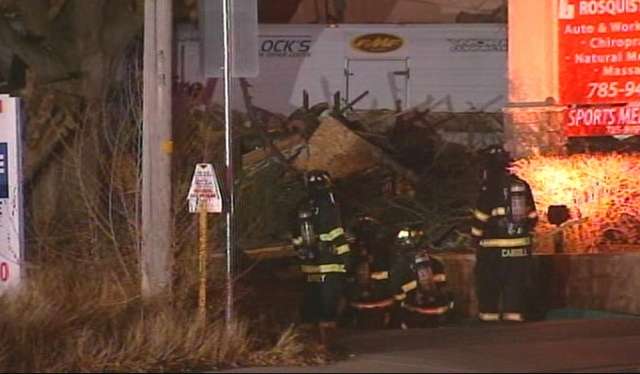 "We sent in a search and rescue team to search for any victims. We initially did not find any victims," Brande said.
No one in the area reported any injuries, but the explosion rocked the entire neighborhood.
"I was just sitting there playing my football game, and I just heard a big, loud boom; turned to my left, and seen a big, red light kinda thing; heard all the southside windows just shatter," said Pleasant Grove resident Brian Peterson.
Kevin Lindstrom, who also lives in Pleasant Grove, said, "The whole house shook. Everything fell off the walls. I thought someone ran into my house with their car, being on 1st East; came outside, and you could hear gas just pouring out everywhere."
A natural gas line ruptured in the explosion, but it's still not clear if that caused the blast.
The neighborhood was evacuated for a couple of hours. The house itself was blown right off of its foundation, and all that was left was a pile of rubble in the street.
"It was a very large explosion, and there's debris all over, so we figure that there was something pretty large that exploded, some gas, maybe, accumulation or something," Brande said.
There is damage to neighboring homes, mostly windows blown out by the explosion.
Crews are now just getting in to investigate what caused this, and the fire marshal hopes to have more answers Friday.
E-mail: spenrod@ksl.com
---
×
Photos
Most recent Utah stories