Estimated read time: 2-3 minutes
This archived news story is available only for your personal, non-commercial use. Information in the story may be outdated or superseded by additional information. Reading or replaying the story in its archived form does not constitute a republication of the story.
WEST JORDAN -- Parents, teachers and students are still heated over the Jordan School District's financial crisis. Tuesday night's crowded Board of Education meeting brought up many issues. Among the biggest: raising taxes to help with the shortfall.
This debate -- to tax or not to tax -- has been going on since last August.
When the board announced a couple of weeks ago they'd be moving forward with layoffs instead, it seemed increased taxes were off the table.
But Tuesday night, many people brought it up again.
Region 6 PTA Director Sheri Eddington said, "A vast number of Jordan School District patrons would support the board in a property tax increase."
Many people like Eddington came forward last night, telling the board that parents support increased taxes.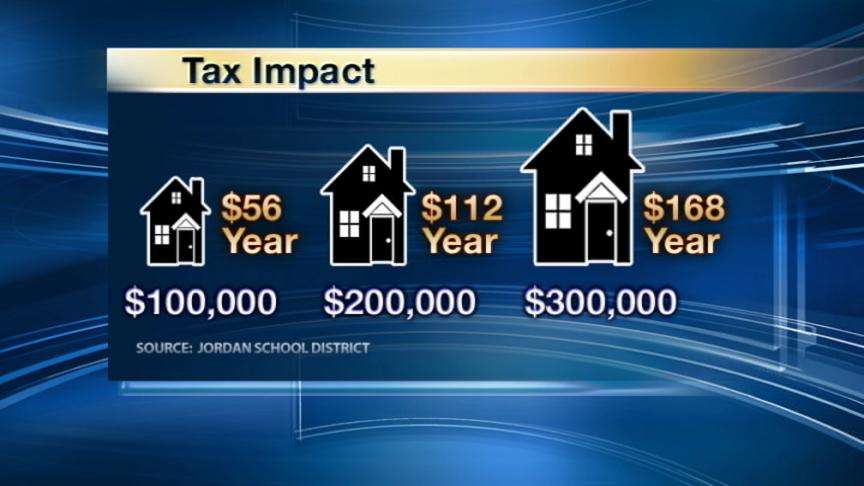 As it stands now, the Jordan School District will have to increase class sizes and lay off 500 employees, 250 of which will be teachers -- all to make up for the $30 million shortfall.
Last August, the district discussed raising property taxes by 40 percent. But there was a public outcry.
Eddington said, "We really believe that was a vocal minority and that the majority of patrons of the Jordan School District would rather have a tax increase."
Eddington has collected over a thousand signatures of those who would support a 20 percent property tax increase.
This is how the district says it would work: You would be taxed $56 per year if you owned a $100,000 home, $112 per year on a $200,000 home, or $168 per year on a $300,000 home. So if you're in the $300,000 range, you'd pay $14 a month.
Still, all that money would only yield $14 million -- less than half of the $30 million shortfall.
Melinda Colton, spokeswoman for the Jordan School District, said, "Not one option is going to solve our $30 million shortfall. It's a series of options. Even if we raise taxes, that doesn't even cover half."
The district spokeswoman says they'd have to consider tax increases, furloughs and pay cuts if the Legislature comes out with more budget cuts.
So right now, it's the waiting game.
"We really can't make a quick decision. I think everyone wants us to make a decision last night or in the coming weeks. We really need to wait and see where the legislature comes in on this budget," Colton said.
The school district says it should make all important decisions by late March early April.
E-mail: ngonzales@ksl.com
×
Related stories
Most recent Utah stories