Estimated read time: 4-5 minutes
This archived news story is available only for your personal, non-commercial use. Information in the story may be outdated or superseded by additional information. Reading or replaying the story in its archived form does not constitute a republication of the story.
SANDY -- Police in Sandy say criminals have been using an electronic device attached to gas pumps that allows them access to credit and debit accounts.
"It's a device that, it appears whoever placed it on there had actually manufactured a door to look exactly like the credit card reader at the gas station," Sandy police Sgt. Troy Arnold said Tuesday.
What is ... card skimming?

It is the illegal copying of information from the magnetic strip of a credit or ATM card. The scammers try to steal your details so they can access your accounts. Once scammers have skimmed your card, they can create a fake or 'cloned' card with your details on it. The scammer is then able to run up charges on your account.
Two of these devices were recently discovered at gas stations in Sandy, but police say it's been happening all over the valley.
Tony Pavlantos is a regular customer at the 7-Eleven at 2100 East and 9400 South. He usually just swipes his debit card, but on Tuesday he paid with cash to fill up.
"I'm negative $400 in my bank account because somebody stole my credit card," Pavlantos said.
He said someone used his debit card to withdraw $600 from ATMs in California; his bank called him about it last week.
Turns out, Pavlantos may have been one of the victims of skimming.
"I was kind of racking my brain at what clerk watched me type in my PIN number and all that. I never thought it might have been the times I put in my PIN number at the gas station," he said.
Pavlantos filed a police report and a claim with his bank, but he still hasn't seen any of his money.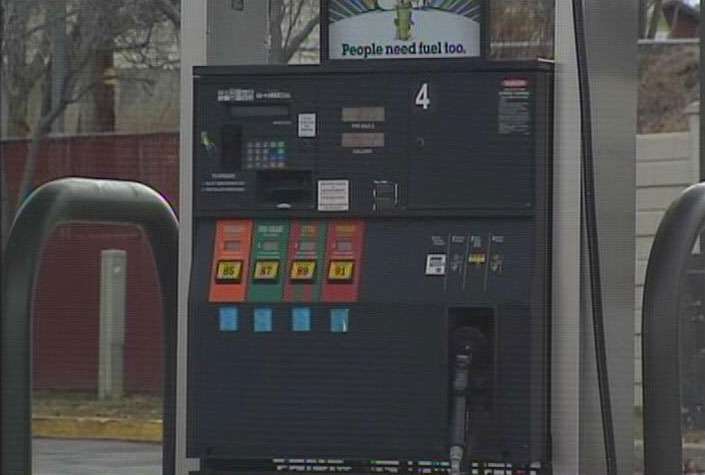 "It's white-collar crime, you know? Blue-collar crime you can at least fight back, but white, you don't know. You have no idea who it is. It's scary," Pavlantos said.
People were also being ripped off by a fraud technique they caught at another 7-Eleven convenience store near 1300 East and 8600 South. Police say they were led to the store after an agency in California informed them about its connection between several fraud victims.
When police checked the pumps, they found that one of the panel doors had been completely replaced, and the device was inside transmitting credit card and debit card information to another location via Bluetooth.
"Somebody might sit in a parking lot with a laptop for a while, or a BlackBerry, something that would collect via Bluetooth -- would download occasionally as people would come though and buy gasoline, collect their information."
Warning signs

A shop assistant takes your card out of your sight in order to process your transaction.

You are asked to swipe your card through more than one machine.
You see a shop assistant swipe the card through a different machine to the one you used.
You notice something suspicious about the card slot on an ATM (e.g. an attached device).
You notice unusual or unauthorized transactions on your account or credit card statement.
-Courtesy Australian Competition and Consumer Protection
Police say between the device at the 7-Eleven on 1300 East and the device found at the 7-Eleven on 9400 South, consumers lost more than $11,000 from criminals skimming their credit and debit cards.
Police believe the devices were placed in the gas pumps around the first of December and were found at the end of January. During that time is when the fraud was committed.
Police say the thief would send all the numbers to California, where they would be used to pull money out of people's accounts at ATM machines using cards programmed with the stolen numbers.
"They don't have to go make a $3,400 purchase, they can do it [with a] $20 purchase or a $30 purchase, something a lot of us may not actually notice in their debit account or their credit card account," Arnold said. "But when they have hundreds or even thousands of names or cards, they're able to go out and do a little bit at a time and consume a lot of money and quite a bit of loss."
Arnold says the best way to make sure you don't become a victim to this crime is to pay with cash, or at least walk into the store and use your credit or debit card at the counter. He says this might be an inconvenience, but it's a lot simpler than trying to get your money back and clean up the mess once someone gets into your bank account.
The fact that the two devices in Sandy were found at 7-Eleven, police say, is just a coincidence. Arnold says the stores are victims and they did nothing wrong.
Prevention is key, investigators say
State investigators say credit card skimming is nothing new, although the technique may be growing in popularity.
Utah Chief Deputy Attorney General Kirk Torgensen says the practice started years ago at ATM machines, and remains difficult to detect today.
"I don't think it's practical that we're going to be able to educate people on what the device looks like," Torgensen told KSL's "Nightside" Tuesday. "Therefore, I have told people the big thing here is prevention."
Torgensen says prevention boils down to vigilance - check accounts at least twice per week, if not daily, and call the bank or credit card company at the first sign of trouble. He is also reminding people that they can freeze their credit, requiring anyone who wants to open credit under another's identity to provide a password and pin.
Torgensen says businesses also have a responsibility, by regularly checking equipment like pumps where drivers can pay for their gas.
"Bottom line is, they owe it to their customers when they go in and use their devices that it's not a crook who has attached something to them," Torgensen said.
------
Story compiled with contributions from Sandra Yi, Shara Park, Randall Jeppesenand Andrew Adams.
×
Photos
Related links
Related stories
Most recent Utah stories