Estimated read time: 2-3 minutes
This archived news story is available only for your personal, non-commercial use. Information in the story may be outdated or superseded by additional information. Reading or replaying the story in its archived form does not constitute a republication of the story.
LAYTON -- Authorities say a pesticide is most likely responsible for the death of a 4-year-old Layton girl.
Hazmat crews spent all day Sunday testing the girl's home near 1500 North and 2400 West. The home has been sealed off to anyone not wearing protective gear.
Layton's fire chief said crews found traces of phosphine gas coming from a rodent fumigant that was placed just outside the home. The gas was seeping into the house.
Police said the Toone family called 911 when their carbon monoxide alarm went off Friday afternoon. Fire crews came to the home to investigate but could only detect low levels of the gas in the basement. They ventilated the house, notified Questar and allowed the family to go back inside.
Police said the family told firefighters they had recently had an exterminator come to the home to deal with a mouse problem. The exterminator apparently put poisonous pellets in the ground outside the home.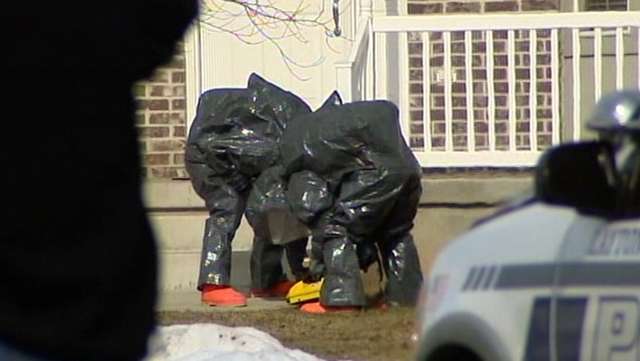 Then on Saturday, neighbors said the entire family fell ill.
"I just know the family got sick, but they all thought it was food poisoning. They said they had been puking and it was not just one, it was all of them," said neighbor Jerry Lynn Smith.
Saturday night, family members found 4-year-old Rebecca Toone unconscious and not breathing. They took her to a local pediatric clinic, but she was soon transported to the Davis County Hospital, where she died around midnight.
"She was the cutest little button, just was always running around and chasing her sisters. They are a great family," said Smith. "When I got the phone call that she had passed away, I just grabbed my kids and hugged them, just to let them know that I still loved them. She's going to be missed."
Early autopsy results came back and ruled out CO poisoning as the cause of death.
Officials from the Layton City Police Department, Layton City Fire Department, Davis County Health Department and the Utah National Guard Hazmat team were called out to the home Sunday to test for poisonous chemicals.
The National Guard used high-tech equipment to make sure the home was safe enough to enter.
Investigators don't know for sure what killed Rebecca, but they have a strong idea.
"Something in that pesticide most likely, but until they get the results out here to us we won't really know," said Layton City Fire Battalion Chief Lonnie Adams.
The National Guard will return to the home Monday with a more accurate tool that should be able to determine whether or not it's phosphine gas inside the home. Until then, no one will be allowed inside.
Police say neighbors are completely safe.
E-mail: ngonzales@ksl.com
×
Photos
Most recent Utah stories