Estimated read time: 2-3 minutes
This archived news story is available only for your personal, non-commercial use. Information in the story may be outdated or superseded by additional information. Reading or replaying the story in its archived form does not constitute a republication of the story.
TAYLORSVILLE — Lunchtime was a lot livelier Friday at Eisenhower Junior High School in Taylorsville. The students challenged their teachers and the administration to a game of dodgeball.
Their feet were in one place — their hearts were in another.
The young people call it their "Battle for Barney." Their school resource officer has cancer, so they rallied to help and did more than donate their sports skills.
Enter the teachers! It's tournament time at Eisenhower Junior High School. The brave administrators and faculty members took on first the 7th grade, then the 8th grade and finally the 9th grade in raucous dodgeball games.
But there was method to the madness.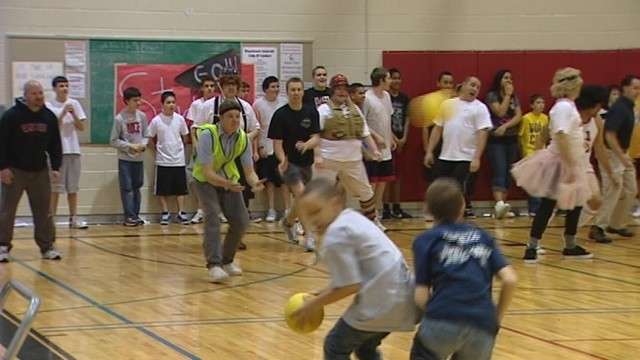 School Resource Officer Doug Barney has been out for a couple of months for cancer treatments, battling bladder cancer on and off for about seven years.
"I'm really touched and just amazed at what you guys have done," Barney told the students. "This is incredible."
This is not the first time the young people have pulled together for a good cause. Every year during Spirit Month, they find a humanitarian project.
Dr. Nancy Padallah, principal of Eisenhower Junior High School, said, "It's been a single mom with five children and no source of income in the past. We actually had a child who died one year and our students paid for a funeral and a burial for the student."
This time, they want to help a man they call "one of the good guys" pay for his medical treatment.
Student Body President Cami Mathews said, "Everyone was his best friend, he's really nice. And when he left, we were all really sad. We just want the best for him."
"I've always known these kids were great kids," said Barney. "I see them in the hall, and their sign for me is, 'I'm watching you.' And so now they're doing that same thing. They're watching over me."
The cost for the dodgeball tournament was $1 to watch the games, $5 to play. Every student participated.
Friday, they joined their teachers in creating a lesson about caring: The students raised $1,200 in one day.
There is more. On Friday, Feb. 12, the Battle for Barney continues with a $10 event from noon to 8:30 p.m. It includes games, dinner, movies plus Officer Barney and a K-9 police dog.
E-mail: cmikita@ksl.com
×
Photos
Most recent Utah stories