Estimated read time: 2-3 minutes
This archived news story is available only for your personal, non-commercial use. Information in the story may be outdated or superseded by additional information. Reading or replaying the story in its archived form does not constitute a republication of the story.
UTAH COUNTY -- For the past couple of years, a project has been underway to remove millions of unwanted carp from Utah Lake. The carp destroy the habitat for the June sucker, a rare and endangered fish.
It's not an easy job to remove all the carp -- especially in the winter, with the lake frozen over.
This removal of millions of carp from Utah Lake has been underway since 2008. So far, nearly two-and-a-half million pounds of carp have been caught and removed.
Using boats, big nets, conveyor systems and all the other necessary equipment, it is a very difficult job.
And this isn't just a warm weather project -- it goes year-round. It turns out, a frozen lake is actually a good time to catch the carp.
Reed Harris, director of the Utah June Sucker Recovery Program, said, "One of the reasons why we come out here in the wintertime is that the fish congregate together. And you can see under the ice that they're all together and they're easier to remove."
To do this, it takes some extra work: chopping several holes into the ice to be able to place nets to cover a 50-acre area. The nets are connected to long cables.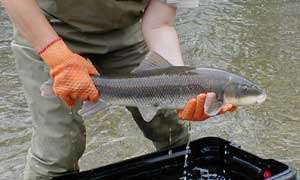 Harris explains the process: "Then they feed the lines under the ice. So the net comes under the ice, and the net comes all the way over to this hole, and then they winch the hole. "The net comes up and out the hole."
Each haul brings up between 40- and 50,000 pounds of carp.
This project, known as the June Sucker Recovery Implementation Program, is funded with federal and state money to the tune of about $1.5 million a year. The goal is to remove 5 million pounds of carp a year for the next 6 years. Wildlife officials believe that will reduce the carp population here by about 75 percent.
The benefits are huge -- namely, a cleaner lake and more vegetation for the other types of fish to feed on. Generally, a vast improvement in the ecosystem.
Jackie Watson of the Division of Wildlife Resources said, "The thing about June suckers I try to convey to people is, this is the only place in the world that this fish is found. So it's a very unique species."
In fact, it's been on the endangered species list since 1986.
So what happens to all the carp? For the moment, the fish are being used at mink farms for food. The Department of Natural Resources is also looking for companies that will buy the fish for use as fertilizer, fish food, compost and other products.
E-mail: kmccord@ksl.com
×
Photos
Related links
Related stories