Estimated read time: 2-3 minutes
This archived news story is available only for your personal, non-commercial use. Information in the story may be outdated or superseded by additional information. Reading or replaying the story in its archived form does not constitute a republication of the story.
Samantha Hayes ReportingIf you haven't seen the movie, "The Dukes of Hazzard," chances are you have at least seen promotion for it. The movie is a remake of the old seventies sitcom and includes all the stereotypes and symbols of the old South, including a symbol that carries very negative images to a least one Utah woman.
The Confederate Battle Flag is painted on the Dodge Charger, appropriately named the "General Lee." A replica of that car, complete with the flag, was given away in a recent promotional event by a local radio station..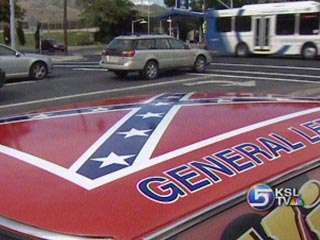 They were just good 'ole boys, never meanin' no harm. And no harm was meant when a replica of the General Lee rolled into Salt Lake City for a giveaway on a local radio station.
Brandi Brown: "I think it looks fun. All the previews I saw for the movie looked really cool."
But when Mali Holdaway saw the promotion she felt something else."
Mali Holdaway: "I looked and I saw the flag and though, 'wow, that's not cool.'"
Just like the old TV show, the Confederate flag was painted on the replica.
Mali Holdaway: "The show was in the seventies. This is 2005. Give away the car, call it the General Lee, take the flag off. It's that simple."
It was that simple a decision for a major Corporation. The Chrysler group shunned a marketing deal with the movie because, "..we said we can't participate if you keep the Confederate flag...it's offensive to a lot of people."
For Mali Holdaway it's a symbol of slavery and segregation.
Mali Holdaway: "My grandmother, she marched with Martin Luther King. She knew everybody; anybody in the democratic party who came up went through her. That's a lot of where it comes from and that's how I live. This is what I was told and that's the way I feel about it."
The radio station said it did not receive any negative feedback over the promotion. Holdaway recognizes the confederate battle flag is considered free speech. Even though that promotion was for fun, she felt it was important to let people know that symbol is offensive to some.
×
Most recent Utah stories