Estimated read time: 2-3 minutes

This archived news story is available only for your personal, non-commercial use. Information in the story may be outdated or superseded by additional information. Reading or replaying the story in its archived form does not constitute a republication of the story.

DAVIS COUNTY -- It's been a headache for drivers for more than a year, but the Utah Department of Transportation says a section of freeway construction just north of Salt Lake City is in the home stretch.

UDOT has been working on the area from 500 North to I-215 in Davis County since December of 2008 for the EXPRESSLink project. Sunday night, several on- and off-ramps closed and a few they had been working on opened up -- making it easier for drivers to navigate.

![](http://media.bonnint.net/slc/1718/171821/17182133.jpg)EXPRESSLink will increase capacity on I-15 by adding Express Lanes in each direction from 500 North to the north I-215 ramp in Davis County (approximately 4.1 miles). Also, bridges at Beck Street, US-89, 1000 North and 800 North will also be replaced. The bridges at 800 and 1000 North will be replaced by one bridge at 1000 North. The project is expected to cost $125 million and is scheduled to be completed by the Fall of 2010. -*[UDOT](http://www.udot.utah.gov/expresslink/)*

The southbound 2300 North on- and off-ramps and the southbound 1000 North on-ramp reopened.

The newly closed ramps are the southbound off-ramp from 1-15 to 600 North, southbound on-ramp from U.S. 89 to 1-15 and the southbound off-ramp from 1-15 to U.S. 89/Beck Street (exit 312).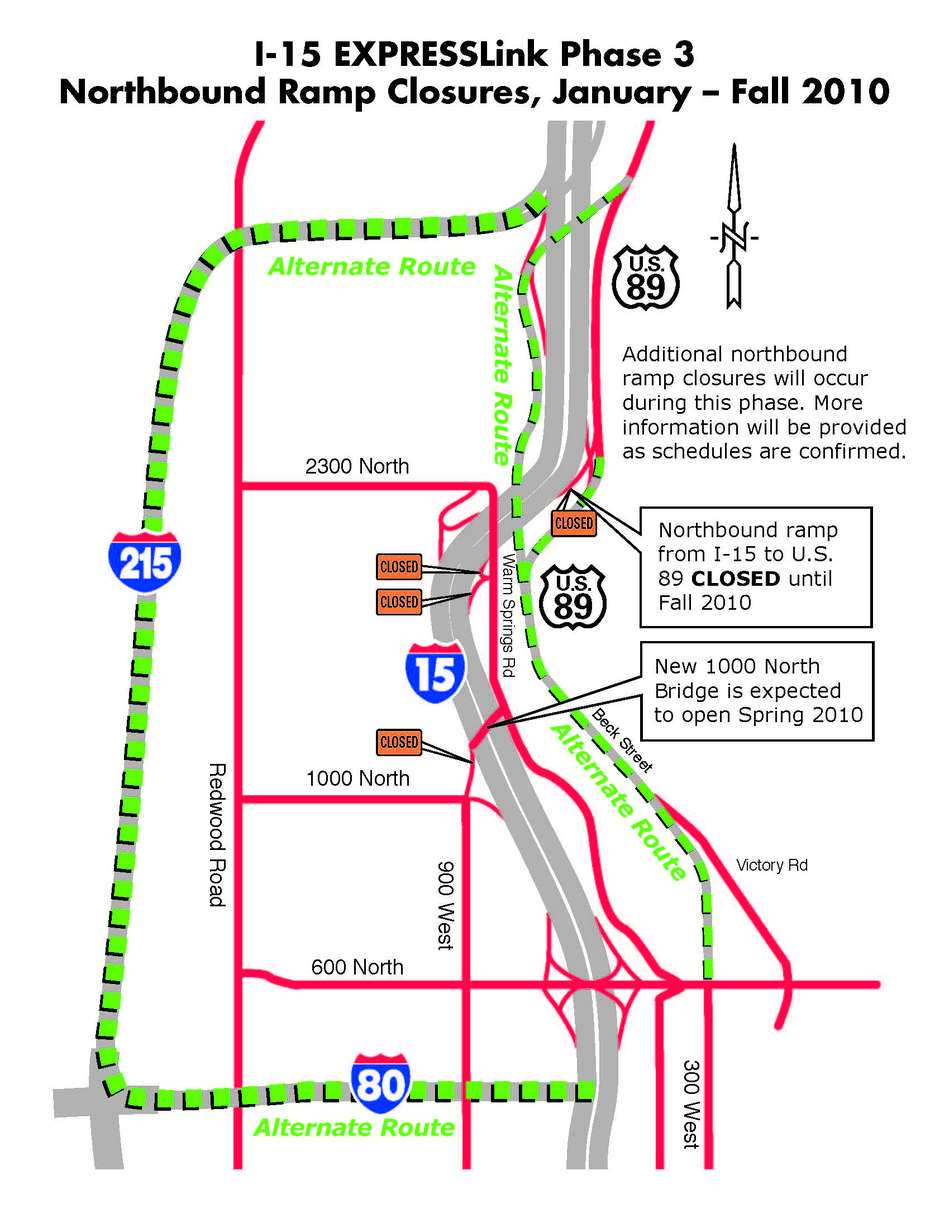 UDOT says the transition went smoothly overnight and the whole project should be completed sometime this coming fall.

Scott Thompson of the Utah Department of Transportation said, "Be patient with us. We're going to add more lane capacity, some more express lanes opening up, and we've got some old bridges that we've been replacing. And it will be a much better area of I-15 once it's all done."

**What's next?**

On Sunday, Jan. 24 all northbound lanes will be moved to the newly constructed side. Northbound I-15 will be restricted to one lane from 9:00am to 6:00pm & several ramps will be closed.

Next Sunday, Jan. 24., there will be another round of closures.

Northbound I-15 between 500 North and I-215 will be restricted to one lane from 9 a.m. to 6 p.m. The northbound on-ramp to I-15 at 600 North will also be closed during that time. And the 2300 North on- and off-ramps from I-15 to U.S. 89 will stay closed for the remainder of the project.

UDOT advises drivers to start planning an alternate route now to avoid getting caught in traffic.

E-mail: jstagg@ksl.com

×
Photos
Related links
Most recent Utah stories