This archived news story is available only for your personal, non-commercial use. Information in the story may be outdated or superseded by additional information. Reading or replaying the story in its archived form does not constitute a republication of the story.
LEHI -- A bomb threat forced a lockdown of Lehi High School Friday. The threat was unfounded, and a 16-year old-boy was arrested for calling it in.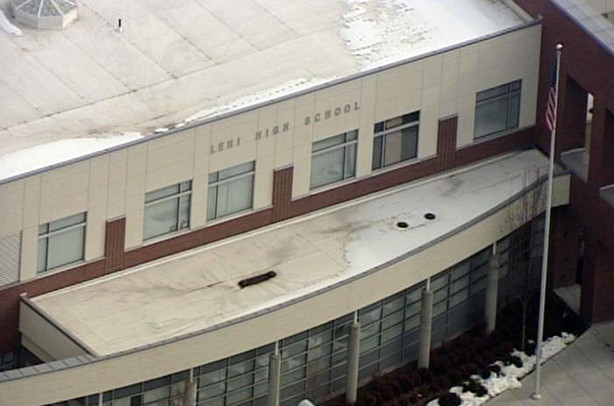 The threat was received just before the lunch hour and caused a major disruption, not only to the school but to surrounding neighborhoods and businesses. The Main Street freeway exits in Lehi were also shut down for more than an hour.
Lehi police said the bomb threat was actually called in Thursday night and left on a voice mail. When it was received by school administrators late Friday morning, police were called and the school was put into lockdown.
The caller claimed a bomb would go off at the school when the bell rang at the end of the day. Officers were able to gather information on who may have made the call and started searching locations in the neighborhood he is known to hang out at.
The 16-year-old boy, who police said is not enrolled at all in school, was found in the vicinity of the lockdown, watching the police response to the bomb threat. He's now on his way to a juvenile detention center and will face serious charges.
"There's a lot of manpower being used: SWAT teams, neighboring police departments, and all of our staff," said Lehi police Lt. Darren Paul. "It is costly, but we have to take them seriously; and the first priority, of course, is the safety of the students and faculty."
The all clear was given just after 1 p.m. Students were able to go to lunch, and nervous parents were able to pick up their children from the school.
Because the suspect is a juvenile, his name has not been released. He is believed to live in nearby Saratoga Springs. Police said they are frustrated by the false report, but they can't take any chances when it involves a school.
E-mail: spenrod@ksl.com
×
Photos