Estimated read time: 2-3 minutes
This archived news story is available only for your personal, non-commercial use. Information in the story may be outdated or superseded by additional information. Reading or replaying the story in its archived form does not constitute a republication of the story.
Richard Piatt Reporting Record funding for education at the legislature is not getting the roaring applause some legislators expected. They say $441 million of new money is a lot. But some say Utah is still playing "catch up."
In spite of all that money, in spite of the raises, bonuses, equipment and buildings, it is a sobering reality that Utah's public education system is so far behind that a similar investment will be required next year, and the year after that and the year after that.
Rep. Greg Curtis, house speaker: "We are putting money in our top priority, education. We're not offering excuses, we never have."
Legislators were practically jubilant Friday when they announced record-breaking money for public education, $441 million NEW dollars. That's one-third of the state's surplus this year.
But depending on who you talk to at the Capitol, a third is either a lot, or a fraction, of what could it could have been.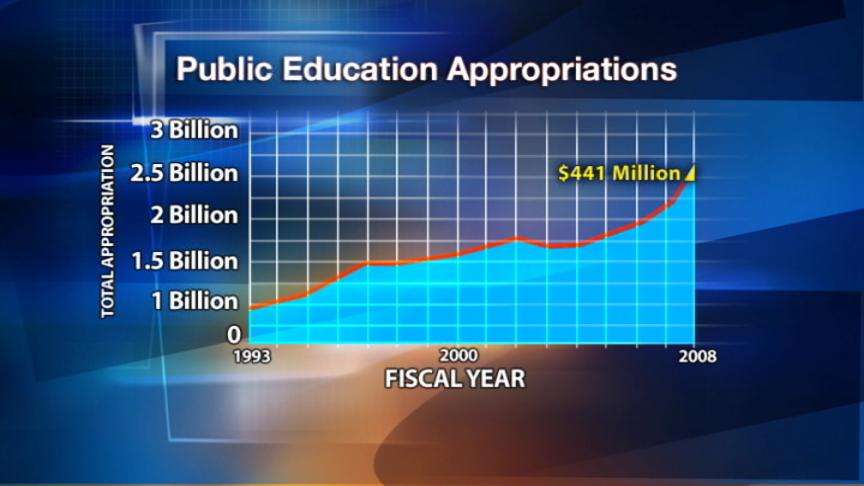 Some are afraid the money will be swallowed up in the massive overall education budget, topping $2.7 billion. But right now, Utah Education Association officials are treading lightly, thankful for the funding, but bothered by what's not included.
Kim Campbell, Utah Education Association: "If you look at the total dollar amount, that's something we need to be appreciative of. But if you look at the pieces that are missing, class-size reduction is a big issue."
Legislators say significant investments in class-size reduction in the past have not paid off. Funding will be modest while an audit will determine where the money has gone. And, in a daily briefing, the senate president says many teachers are indeed thankful.
Sen. John Valentine, senate president: "There are some who are naysayers who say you should have done more. We've done an excellent package for teachers."
Educators say they're fighting a "We've-fixed-it" attitude at the Capitol. They say the education battle is far from over, that the system was so under-funded for years and future growth is now so significant, that this large investment is merely preventing systemic failure. Teacher and democrat Carol Spackman Moss says the education push must continue.
Rep. Carol Spackman Moss (D), Salt Lake City: "If you just say thank you, thank you, there's nothing left to do, you'll leave out some areas that really need funding."
All this proves that funding education is a complicated mix of money and politics.
×
Most recent Utah stories