This archived news story is available only for your personal, non-commercial use. Information in the story may be outdated or superseded by additional information. Reading or replaying the story in its archived form does not constitute a republication of the story.
SALT LAKE CITY -- Deseret Management Corp., the for-profit arm of The Church of Jesus-Christ of Latter-day Saints, has unveiled a new mission statement.
Mark Willes, president and chief executive officer of DMC, unveiled the mission statement during a daylong meeting Thursday of managers of the various media companies: KSL Television and Radio, Deseret Book, Deseret News and the newly created Deseret Digital Media.
The mission is summarized as: "We are trusted voices of light and knowledge reaching hundreds of millions of people."
"There are some who would say that you're just this little, teeny Utah-based company, how can you possibly have that ambition?" Willes says. "But what's interesting is that the values we have are shared worldwide. Many of the issues that we deal with are nationwide, and in some cases worldwide, and so if we can do an absolutely fabulous job talking about those issues, explaining those issues, telling stories that are compelling, we believe it'll not only be of interest not only in our local market but, on occasion, literally around the world."
President and CEO of Deseret Digital Media Clark Gilbert says, "It is a bold statement that says our growth has only begun. It also lays out the road for how we will get there — by providing content and resources that inspire, motivate, and improve lives."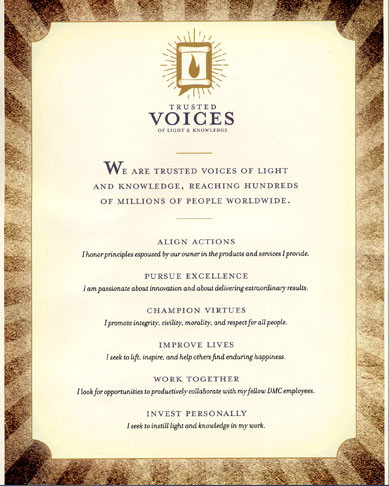 DMC Values:
Align actions: I honor principles espoused by our owner in the products and services I provide.
Pursue excellence: I am passionate about innovation and about delivering extraordinary results.
Champion virtues: I promote integrity, civility, morality and respect for all people.
Improve lives: I seek to lift, inspire and help others find enduring happiness.
Work together: I look for opportunities to productively collaborate with my fellow DMC employees.
Gilbert says, "This is a mission statement I believe in deeply and one where Deseret Digital will play a critical role as the digital voice within the DMC media network."
Willes says the company is in a unique position to do this because it has such a diverse media platform -- newspaper, TV, radio, websites, and book and music publishing. The technology is there to share all of that worldwide.
E-mail: kmccord@ksl.com
×
Related Links