Estimated read time: 2-3 minutes
This archived news story is available only for your personal, non-commercial use. Information in the story may be outdated or superseded by additional information. Reading or replaying the story in its archived form does not constitute a republication of the story.
John Hollenhorst ReportingClick here to help, or to learn more about the Wasatch Humane Horse Rescue program.
A thoroughbred mare named Diva who was lucky enough to survive a possible trip to the slaughterhouse is now facing the crisis of her life, and the people who adopted Diva are trying to raise funds to save her.
Angela Linford, Foster Caretaker: "She's a great horse. She's a thoroughbred and she's very sweet."
Things had been looking up for the horse named Diva: a new foster home, new caretakers, a new lease on life.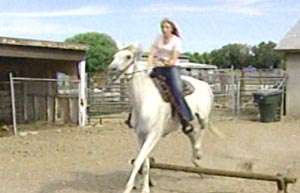 Angela Linford, Foster Caretaker: "She's very sweet. Once she realizes that she can trust you, she'll follow you around and wants to be your friend."
Diva's life started with a taste of glory. She literally has a track record, including a win on the track at Hollywood Park.
Misti Seppi, Wasatch Humane Horse Rescue: "And she won three races. She has a grand total winnings of $13,000."
Diva also was a Grand Prix Jumper and a dressage horse until, at age 12, arthritis ended her career. Instead of getting rid of her, Diva's owners donated her to Wasatch Humane Horse Rescue, so she escaped the usual fate of a worn out racehorse.
Misti Seppi: "Be shipped to a slaughterhouse for human consumption."
Reporter: "do you think that's what would have happened?"
Misti Seppi: "Ultimately, yeah."
For a year now she's been in foster care and rehab.
Misti Seppi: "We'd just gotten the green light to start to ride again, start getting her in condition."
But suddenly, Diva's caregivers are devastated. They just found out she has a disease that will kill her soon if she's not treated.
Misti Seppi: "I was very upset. I love this mare!"
About a week ago, they noticed Diva bleeding from one nostril, it turned out to be a fungal infection. The only way to beat it is to do surgery.
Angel Linford: "She has so much go, and so much heart in her, that for her to have the surgery would mean that she could enjoy a happy life with an owner."
Now they're trying to raise $5,000 to pay for the surgery.
Misti Seppi: "Diva has done a lot for a lot of people, and we just think it's time for Diva to get something back from people."
If she gets the surgery, she could live another 20 years.
Click here to help, or to learn more about the Wasatch Humane Horse Rescue program.
×
Related links
Most recent Utah stories