Estimated read time: 1-2 minutes
This archived news story is available only for your personal, non-commercial use. Information in the story may be outdated or superseded by additional information. Reading or replaying the story in its archived form does not constitute a republication of the story.
Amanda Butterfield reportingThe Utah County Sheriff's office is working to solve a mystery this morning. Police say someone fired a shot and hit a small plane as it flew in the air.
Police are trying to figure out who did it and why.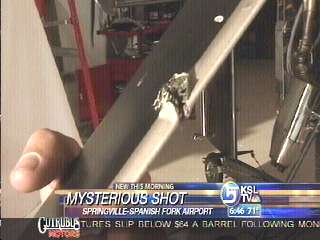 Here's what happenend: Michael Burton of Air- gyro Aviation, was flying with a student in a two seater Gyroplane.
They were practicing climbs and descents, over what he calls a rural area.
Michael Burton/Instructor, Airgyro Aviation: "We just kind of felt a pop and looked at each other and decided we didn't think that was normal. So we headed back to the airport."
Burton says at first it didn't occur to him that it could have been a gun shot. He thought something had fallen off the plane.
Michael Burton/Instructor, Airgyro Aviation: "We had some war veterans sitting over in the hangar. It was his so I was flying with. He looked at it and said, 'That's a bullet hole.'"
At that point, they called authorities, who confirmed the hole in the propeller blade was from a bullet.
Burton says the two didn't see anyone below them, but he says they weren't really looking for anybody because they were flying over unpopulated fields.
He says he and his student got lucky that the bullet narrowly missed the rest of the plane. If it would have hit any other part of the plane, the aircraft could have exploded.
Burton says he doesn't think this was just an innocent practical joke, because someone could have gotten killed.
Police are now investigating what kind of gun was fired and who was in the area when it happened.
×
Most recent Utah stories