Estimated read time: 4-5 minutes
This archived news story is available only for your personal, non-commercial use. Information in the story may be outdated or superseded by additional information. Reading or replaying the story in its archived form does not constitute a republication of the story.
WEST JORDAN -- Three brothers whose boxing skills put West Jordan on the map a half-century ago are now trying to save their boxing club. They say city officials are elbowing them out.
The two sides are friendly -- they're not duking it out -- but the future of a program that's helped thousands of kids is up in the air.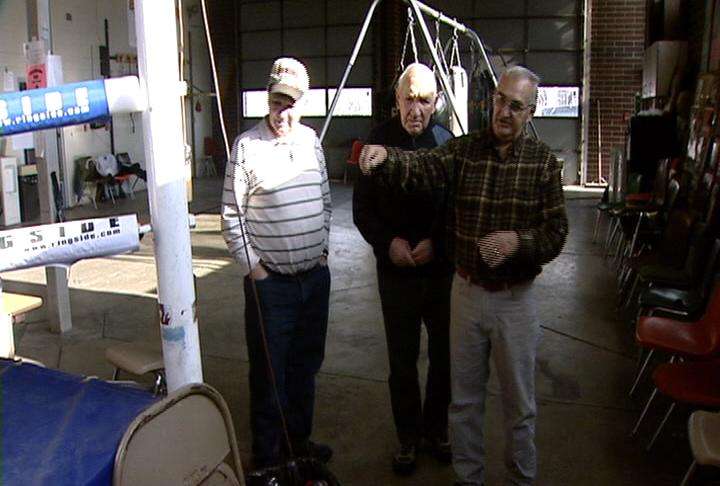 At 7900 South and 1300 West in West Jordan, there stands what looks to be an old firehouse. But on the inside, it's a place where dreams are made.

"It mostly means my future, because I want to be here and try to come and do my best to be a professional boxer," Aron Paisano said.

A wall full of history tells it all. The dream of big-time boxing became reality the three Fullmer brothers. All three were professional boxers; two had shots at the title.

Gene Fullmer actually won it, the world championship, twice. He upset the legendary Sugar Ray Robinson 53 years ago, on January 2, 1957. A few months later, Robinson got the upper hand in a re-match.

"He knocked Gene out on that fight," his brother Jay Fullmer said, "Then they fought a draw; then the fourth fight Gene beat him."

The Fullmer boys teach kids the ropes every night after 6:00, because they know the ropes.

"We talk to them like my manager talked to me: 'You don't drink. You don't smoke. You go to church, and you shape up in life," Gene Fullmer said.

Don Fullmer, who was also a title contender, said, "That's what our main goal is, to kind of keep them kids on the right track, straighten them out a little bit. But most of them are pretty good kids."

The city allowed the Fullmers' nonprofit boxing club free use of the abandoned fire station for five years, but now they've given the Fullmers six months to move out. The city wants to park trucks where the club now stands, decentralizing the fleet to make snow removal quicker and more efficient.

**Who is... Gene Fullmer?**

![](http://media.bonnint.net/slc/1685/168566/16856659.jpg)Gene Fullmer, born and raised in West Jordan, was a professional boxer in the 1950's and won the world middleweight championship in January of 1957 when he beat Sugar Ray Robinson in a 15-round decision. In a rematch the following May, Robinson knocked Fullmer out in the fifth round with a left hook to reclaim the title. After the National Boxing Association withdrew their recognition of Robinson as champion, Fullmer fought for and regained the title in 1959. He held on to the title until 1962 when he lost to Dick Tiger. A rematch in February 1963 resulted in a draw; Fullmer's bid to regain the title ended in a second rematch in August 1963 when he was TKOed in seven rounds. Fullmer runs the Fullmer Brothers Boxing Gym with his two brothers, Don and Jay.

"We can use it in the summers as well, but the principal reason was the snow removal issue," explained West Jordan City Manager Tom Steele. The Fullmers and the city aren't exactly sparing over this, though. Both sides want the same thing: they want the program to continue.

"Well, we're searching. We're using our grand people to help them find some grant opportunities," Steele said.

Both sides are trying to line up money to solve the problem, but they're going in different directions. The city hopes to find a new place for the boxing club; the Fullmers want to stay where they are.

"What West Jordan needs is a big canopy to cover their trucks," Jay Fullmer said.

But good will still prevails.

"I understand them," Jay Fullmer continued. "I mean, West Jordan has been amazing. They've been great people to let us have this building."

The Fullmer boys can teach lessons in fighting, but when it's appropriate, they know how to make nice too.

The brothers have a bank account for tax-deductible contributions to help save their boxing club. Contributions can be made to:

Fullmers Golden Gloves Boxing
Zions Bank
1835 West 7800 South
West Jordan, Utah 84088*E-mail: jhollenhorst@ksl.com

------

*KSL.com has not verified the accuracy of the information provided with respect to the account nor does KSL.com assure that the monies deposited to the account will be applied for the benefit of the persons named as beneficiaries. If you are considering a deposit to the account you should consult your own advisers and otherwise proceed at your own risk.

------

×
Related links
Most recent Utah stories