Estimated read time: 2-3 minutes
This archived news story is available only for your personal, non-commercial use. Information in the story may be outdated or superseded by additional information. Reading or replaying the story in its archived form does not constitute a republication of the story.
Jed Boal Reporting The Utah Transit Authority is baffled by a crash in which a car drove nearly 1,000 feet on the light rail tracks.
Cars collide with TRAX trains somewhere about once a month. This was the scene 24 hours ago after a woman drove her car on the rails several blocks.
Justin Jones, Utah Transit Authority: "She was traveling south on the street. Most cars make a right turn and continue on. In this case, she avoided all the barricades, went down the TRAX line and went down the TRAX line where the road ends, continued past the TRAX platform, even beyond the TRAX station. After hitting a car, she continued south on the other side of 1300 South."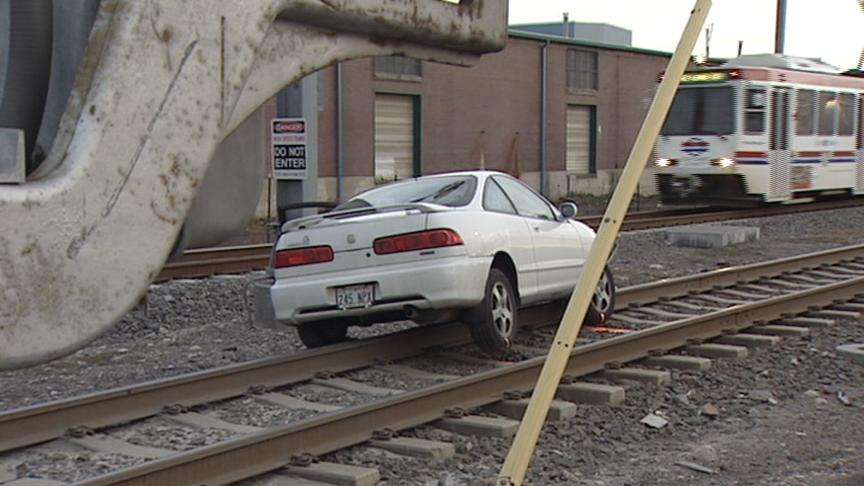 Police say the woman was upset and drunk, and she hurt the driver in the van she hit. They found a box of wine in her car.
This map gives us a better idea of exactly what happened. Cars share the road with TRAX along this two- or three-block section of 200 West. Southbound cars must turn west at Paxton Ave.
The errant driver yesterday kept going straight, left the pavement, fishtailed along the rails past the TRAX platform, hit the van at 1300 South, and still continued southbound on the rails before stopping. That's nearly 1,000 feet from the point she left the road.
This man works for a tow company right where the driver left the road.
Haden Hammond, witness: "I heard a bang and ran outside. I seen an Acura about where that black sign is. I watched her go all the way down the tracks. It looked like she stopped at 13th, waiting for traffic or something. Then she popped it, flew up, and landed on the other side."
UTA says it's happened before, but each of the other times when the car got to the end of the pavement, they got high-centered on the TRAX.
Justin Jones, Utah Transit Authority: "It's never happened that they've continued so far down our track to 13th South."
Police say cars miss the turn once or twice a year. It's the only place in the system where cars and trains share the road.
UTA will review the case but do not think any new signs are necessary.
×
Related links
Most recent Utah stories