Estimated read time: 2-3 minutes
This archived news story is available only for your personal, non-commercial use. Information in the story may be outdated or superseded by additional information. Reading or replaying the story in its archived form does not constitute a republication of the story.
SALT LAKE CITY -- Ask anyone who's lived in Utah for some time, and they all know who Larry H. Miller was. Miller was a fixture as a businessman, sports franchise owner, racing enthusiast and a man who always gave back to the community that he loved so much.
One of Larry H. Miller's last public appearances was at the Utah International Auto Expo in January. He was inducted into the auto dealers Hall of Fame for his more than four decades of being in the car business.
Just eight days later, on Jan. 23, there was disturbing news about his deteriorating health. He underwent surgery to have both of his legs amputated 6 inches below the knee.
The previous summer, Miller spent two months in the hospital recovering from a heart attack, kidney failure, nerve damage and blindness; all complications of his type 2 diabetes. He passed away on Feb. 20.
On Feb. 27, his viewing brought out thousands in the community: family, friends, long time business associates, church leaders. Former Jazz players Jeff Hornacek, John Stockton and Karl Malone also came.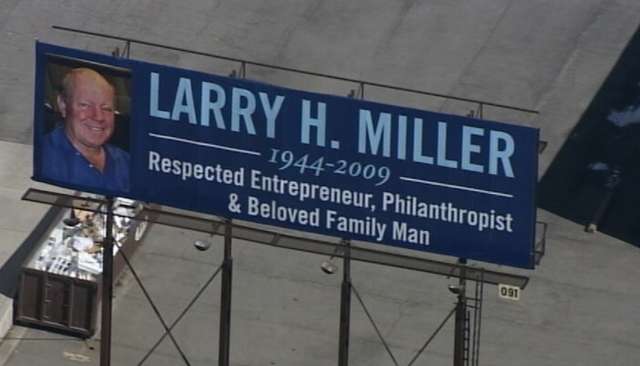 Malone said, "Everybody's talking about letting his legacy live on. His legacy was when he was here and the things he did when nobody else knew about it."
Miller was a man who was remembered for leaving his mark on the community, both professionally and privately. He was fiercely competitive, but a gentle man; someone you could call by his first name and he would not be offended.
His love of automobiles and auto racing was illustrated by his casket. It was painted blue with white racing stripes, just like the paint job on one of his favorite race cars.
Miller Friend Tom Mabey said, "He loved the speed. He just loved everything about them, loved the looks of them. He had a real love affair with cars all of his life."
Funeral services were held on the floor of the basketball area that he, of course, built. After the service, the procession to the cemetery included a motorcycle escort, followed by friends and family members driving several of Miller's favorite automobiles.
"He was a hard worker," said Utah Gov. Gary Herbert. "He was honest, he was charitable. I don't think anybody knows all the charitable things he's done for the people and the entities in this state."
He was a man who left us way too early in life at the age of 64.
E-mail: kmccord@ksl.com
×
Related links
Related stories
Most recent Utah stories