Estimated read time: 2-3 minutes
This archived news story is available only for your personal, non-commercial use. Information in the story may be outdated or superseded by additional information. Reading or replaying the story in its archived form does not constitute a republication of the story.
TOOELE COUNTY -- In spite of heavy snow, workers began unloading a controversial trainload of nuclear waste in Tooele County Tuesday. They plan to leave the barrels of depleted uranium in the open air, at least temporarily.
Because of the major snowfall, the EnergySolutions company briefly considered suspending the unloading, but they went ahead anyway. The trainload of radioactive waste came in over the weekend from a cleanup project in South Carolina.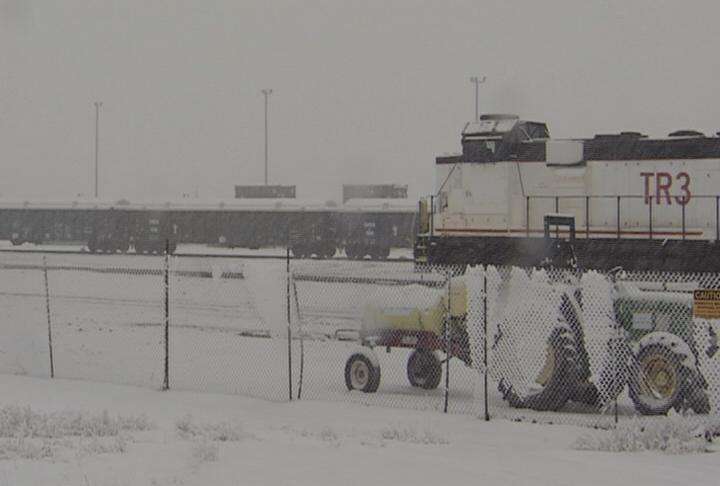 The depleted uranium powder is in barrels, four to a skid. Over billions of years, radioactive decay will convert it into harmless lead. But in between, in tens of thousands of years, it will actually become more dangerous.
"One of the interim steps is the production of radium, and radium decays to radon gas," says Dane Finerfrock, director of the Utah Division of Radiation Control.
Trucks are hauling the waste from the train to a landfill. But under Gov. Gary Herbert's agreement, it won't actually be buried until more studies are done.
"The agreement has to do with making sure that radon gas from the wastes are appropriately handled by designing of the appropriate cover system, and that the waste is disposed of at an appropriate depth," Finerfrock says.
Two more trainloads are expected, but they'll stay in South Carolina until the state's study process is complete.
Environmental critics say the cart is before the horse because the waste came in before the rules were set. They want the first trainload sent back, but state regulators say the barrels will remain stable and safe while the discussion continues.
"They're designed to withstand the rigors of transport. Sitting in the environment a couple of months, a few months if that's what it turns out to be, shouldn't impact the life expectancy of the drum," Finerfrock says.
In a related development, Congressman Jim Matheson has called a news conference for Wednesday to tangle with EnergySolutions. He says they've targeted him with attack ads because of his opposition to dumping of foreign waste in Utah.
E-mail: jhollenhorst@ksl.com
×
Related links
Most recent Utah stories