Estimated read time: 4-5 minutes
This archived news story is available only for your personal, non-commercial use. Information in the story may be outdated or superseded by additional information. Reading or replaying the story in its archived form does not constitute a republication of the story.
LAS VEGAS -- The connections couldn't be more plentiful as No. 14 BYU (10-2) faces No. 18 Oregon State (8-4) in the Maaco Bowl Las Vegas Tuesday, Dec. 22.
For starters, this is the Cougars' fifth straight trip to Las Vegas for the bowl game. Like it or not, Sin City appears to be BYU's home-away-from-home.
Coaching connection
BYU Head Coach Bronco Mendenhall played (1986-87) and coached (1989-90, 1995-96) for the Beavers and was the starting safety that last time these two teams met. Mendenhall had four tackles when the Beavers beat the Cougars 10-7 on Nov. 15, 1986, in Provo.
After serving as the defensive line coach in 1995 and the defensive coordinator in 1996, Mendenhall interviewed with Oregon State Head Coach Mike Riley at the beginning of Riley's first tour with the Beavers in 1997.
Mendenhall didn't get the job and moved on to Louisiana Tech before becoming the defensive coordinator at New Mexico in 1998.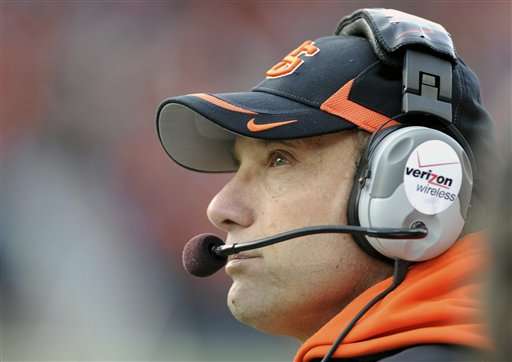 "I made a big mistake," Riley admitted when he didn't offer Mendenhall a job. "I had just got the job and had pretty much a staff of guys in mind that I had worked with before when I was a head coach previously and I met with Bronco and remember being very impressed but didn't have any room at his position. Had I known what I know now, I would have done everything to try to keep him."
Recruiting Wars
The two teams have also been involved in recruiting wars, especially for Hawaiian players. In 2004 Mendenhall heavily recruited safety Al Afalava out of Kahuku High School. Afalava, who now plays free safety for the Chicago Bears, chose Riley and Oregon State.
Riley admitted recruiting wide receiver Spencer Hafoka, who now plays regularly as a sophomore for BYU.
"I loved him as a guy and a player," Riley said.
Riley also said his team has "moved into parts of Utah...with a connection," suiting up two Polynesian players (DLs Stephen Paea and Sioeli Nau) who played both high school and junior college football in Utah.
Family Ties
The Cougars and Beavers also share family ties. BYU star running back Harvey Unga has two second cousins who play for Oregon State. Twin brothers, Kevin and Devin Unga, play linebacker for the Beavers.
They are also cousins with former Cougars Fahu Tahi, who plays fullback for the Minnesota Vikings and Reno Mahe, who played running back for the Philadelphia Eagles.
X's and O's
In his compliments of Mendenhall, Riley showed a high amount of respect for the Cougar team.
He called the Cougars a well-coached football team, "solid as a rock," and was highly complimentary of the BYU passing attack.
"The quarterback (Max Hall) is really productive, a very good player, an experienced player, and that is always scary," Riley said. "BYU has always done a good job of throwing the football, throwing to the tight ends, throwing to the backs."
He also specifically mentioned BYU's success on third down. The Cougars convert 55.5 percent of the time, tops in the nation, something Riley says, "is a testament to good coaching and good decision-making by the quarterback."
After watching film these last couple of weeks Riley said he and his team have "gained a ton of respect for the different parts of (BYU's) team and how they're coached and how they play."
History is on Oregon State's side. The Beavers have won five of the eight matchups with BYU, the last Cougar victory coming 31 years ago in Corvallis, Oregon; a 10-6 win to open the 1978 season and long before either Riley or Mendenhall were ever involved.
I have a ton of respect for (Coach Mendenhall)," Riley said without hesitation. "I personally like him, but I also think he is a heck of a football coach and seems to be the perfect fit for BYU. He's got a really program going and it'll be fun to play him but it'll be tough."
BYU will be looking for its first bowl win since beating UCLA in 2007 17-16. You can hear more from Coach Riley during the BYU pregame show on KSL Newsradio 102.7FM/1160AM or on KSL.com beginning at 4 p.m. Kickoff from Sam Boyd Stadium is scheduled for 6 p.m.
×
Most recent Utah stories