Estimated read time: 4-5 minutes
This archived news story is available only for your personal, non-commercial use. Information in the story may be outdated or superseded by additional information. Reading or replaying the story in its archived form does not constitute a republication of the story.
Scott Haws ReportingThe numbers are staggering. Every day, approximately 23,000 people become victims of identity fraud. And every day, criminals are finding new ways to not only get your information, but they're coming up with different ways to use it.
Our Scott Haws uncovered a scam that cost one family thousands of dollars. It's a real wake up call for all of us, as to how much personal information is floating around out there and what criminals will do to get it and use it.
The question is, am I the real Scott Haws? Actually, I'm the real Scott Haws. I've got my photo I.D. to prove it. Did he just say he was the real Scott Haws? Here's my Social Security card, so it's obvious I'm the real Scott Haws.
So who's telling the truth? Clever criminals are hoping by the time you find out, it'll be too late.
Lowell Hicks: "We'd do anything for our kids, particularly when they're in a bad situation."
It's that willingness that cost Lowell Hicks $3,000. Lowell's grandson Jared Campbell recently called him from Canada saying he had broken his nose and needed an operation.
Lowell Hicks, Scam victim: "I said, 'Well, how much do you need?' 'Well, $3,000. They said they won't operate unless they have the cash money.'"
It just so happens Lowell had stashed away a few thousand dollars for a "rainy day." So, Jared told his grandfather to go to Wal-Mart and send the cash using MoneyGram.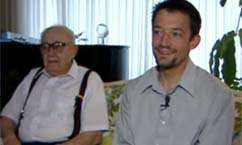 Scott Haws, Eyewitness News: "Have you ever been to Wal-Mart?"
Jared Campbell: "Never have."
Now meet the real Jared Campbell. He lives in Salt Lake, and the nose looks pretty good.
Jared Campbell, Identity theft victim: "I had a conversation with my mother that morning, asking me first if I had been to Canada, and second if I had a broken nose. They were both pretty absurd, right? So immediately I knew something fraudulent is going on here."
Lowell Hicks: "I should have known better, you know."
So now there are two victims, and Lowell Hicks is out the money. Someone in Canada is posing as Jared Campbell, someone who did enough digging on Jared to call his grandfather and get him to send $3,000.
"You go through the games in your head, like how could they have found this out? It's a very well thought out story."
But how much do they know and how did they get it?
Our first stop was Wal-Mart, just one of the 110,000 MoneyGram outlets worldwide. But Wal-Mart corporate declined our request for an interview. So we contacted MoneyGram International, based in Minneapolis. The company was very concerned about Lowell's situation and readily admits they are aware their service is often used for fraudulent transactions.
For that reason, MoneyGram has placed consumer fraud warnings on the front page of every sender transaction. That didn't stop Lowell from sending the cash, since he thought he was helping his grandson.
And whoever picked up the cash in Canada not only knows how to get around MoneyGram's safeguards, but they know a lot about Jared.
Randy Tuckett, Postal inspector: "I don't think we realize how much information is out there on us personally."
Postal Inspector Randy Tuckett is part of Utah's Identity Theft task force. He says consumers need to be on the defensive more than ever.
Randy Tuckett: "Pretty much all of it is available to anyone who wants to go out and search across the Internet."
Randy Tuckett: "I never underestimate the ingenuity of criminals, and this is just an ingenious method of getting somebody to fork over some cash."
So how did someone zero in on Jared and get his information?
We spent five minutes on the Internet, and with the help of a couple of sites-- some of them requiring a minor fee-- we tracked down Jared's information, including address and phone number. That led us to his mother and her information, and finally to his grandfather Lowell. All in five minutes.
Still, Lowell chooses to see the bright side of things.
"The kids will know we're behind them if we've got anything to give them."
These criminals will usually come back until the well is dry. The next day Lowell got another call asking for another $3,000. He went to the bank and took out another $3,000, but this time he called Jared's mother before sending it.
If anyone asks for money, especially cash, that's the first red flag.
×
Related links
Most recent Utah stories