Estimated read time: 5-6 minutes
This archived news story is available only for your personal, non-commercial use. Information in the story may be outdated or superseded by additional information. Reading or replaying the story in its archived form does not constitute a republication of the story.
WEST VALLEY CITY -- Police in West Valley City have served a second search warrant at the home of Josh Powell, the husband of missing woman Susan Powell.
Detectives finished serving the warrant late Thursday afternoon. West Valley police Capt. Tom McLachlan said he doesn't know what prompted investigators to go back to the home, but they recovered a few items that they believe will help in this case. The Salt Lake Tribune reports police took four large bags of evidence as well as vials and swabs. It also says police are working to obtain cell phone records but aren't specifying whose records.
McLachlan did say that Josh Powell's status as a person of interest has not changed; he is not considered a suspect at this time.
Susan Powell's family: 'We're not surprised'
Earlier in the afternoon, Susan Powell's family held a press conference in their home state of Washington to say they are saddened but not surprised that her husband has been named a person of interest in the investigation. They said it gives them cause for concern.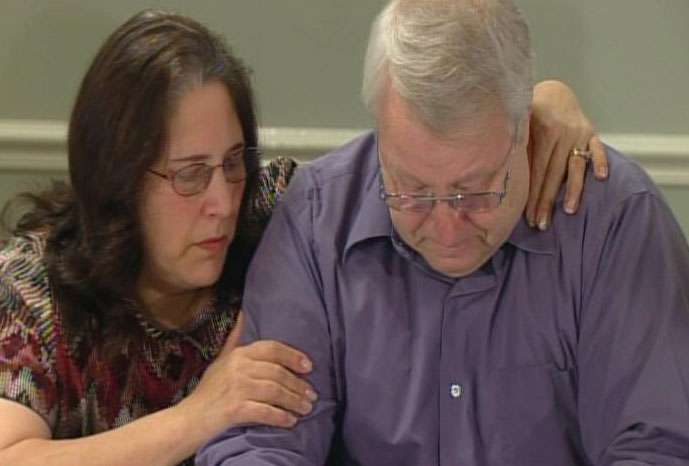 "We have law enforcement background in our family. We know what that means, and we believe the police would not have made that determination without having good reason," said family friend and spokeswoman Shelby Gifford.
The family held a press conference Thursday afternoon in their home state of Washington. They said they want to keep Susan Powell's name and face in the media.
Gifford also pointed out that the family knows Susan Powell is an exceptional mother and would not have agreed to the camping trip Josh Powell said he took with his boys Sunday, Dec. 6.
"We know that Susan is an excellent mother and would not have tolerated her children being taken out of the home after midnight to go camping in dangerously cold conditions," Gifford said.
The family said 20 detectives from the West Valley City Police Department are working the case full-time. Susan Powell's father, Charles Cox spent a few days in Salt Lake City to meet with those investigators.
On Thursday, Cox said he thinks his daughter is still alive.
"I have nothing to say she isn't, other than the facts, the time she's missing; and as a father, I can't give up the hope that she's alive," he said.
Family members would not talk about a notebook investigators seized. Susan reportedly kept that notebook at work and wrote about threats made against her.
Brother-in-law describes Josh Powell as 'different'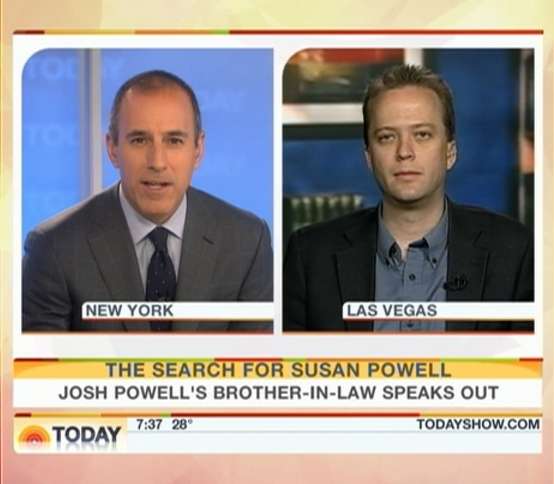 Meanwhile, West Valley police said Thursday that Josh Powell has not been responsive to investigators and has not come in for a full interview. That has, in part, raised questions for Josh Powell's own family.
In an interview with NBC's "Today Show" Thursday morning, Kirk Graves, the husband of Josh Powell's sister, expressed the family's wishes for Josh Powell to be more helpful with the investigation.
"We wish he would do everything necessary to help us find Susan," Graves said. "We understand his desire to get an attorney. We wish that attorney would advise him to be a little more assertive and focus on what is good for Susan right now."
Graves also said his brother-in-law could be controlling and was an "interesting person" with a "different" personality.
When Graves was asked if he thought Josh had anything to do with Susan's disappearance, he said he has carefully avoided analyzing the question.
"There are too many emotions, too many family members. I just pray no," said Graves.
During another network interview, Graves said, "I wouldn't be surprised if he [Josh Powell] gets arrested in the next seven days."
"I don't know if I really have a response," McLachlan said. "It's very, I don't want to say shocking, but I've just been informed of that, and I'm very surprised that he would say that. I don't know what his basis is."
But McLachlan did say Josh Powell is definitely a person of interest in the case.
"He was the last one to see Susan," McLachlan said.
West Valley Assistant Police Chief Craig Black said there are no plans, at the moment, to arrest Josh Powell.
Police: Son of missing woman backs up camping story
Earlier in the day Thursday, West Valley police said Susan Powell's eldest son told them they went camping the night his mother disappeared. It backs up a claim by Josh Powell that he took his two children camping in Tooele County and they slept in the family's van.
McLachlan said police are analyzing the boy's comments, which came out of an interview at a local children's justice center.
Investigators haven't been able to thoroughly check the remote area along the Pony Express Trail where Josh Powell said they stayed, but McLachlan said there was no obvious of camping activity.
Police have served a search warrant at the family home and have also searched the van. McLachlan said they've recovered some items of interest that are being processed, but he said police are still pursuing many possible avenues in the case.
Police are still frustrated that they haven't been able to further interview Josh Powell.
"There are many people who have made comments about his activities and actions that don't put him in a positive light," McLachlan said. "The way to get beyond that is to have him come in and talk to us."
------
Story compiled with information from Sandra Yi, Shara Park, Sam Penrod, Marc Giauque, Paul Nelson and Andrew Adams
×
Related stories
Most recent Utah stories