Estimated read time: 3-4 minutes
This archived news story is available only for your personal, non-commercial use. Information in the story may be outdated or superseded by additional information. Reading or replaying the story in its archived form does not constitute a republication of the story.
SALT LAKE CITY -- Plenty of people steer clear of the alleyways of downtown Salt Lake City; but what if you had a good reason to explore those forgotten and ignored areas?
Fifteen University of Utah architecture and planning students put their talents to work to come up with designs to make those dead areas dazzling. The project is called The City Narrows, and it aims to attract people to the alleys.
The students showed their work to city planners and business leaders Tuesday.
"This is another way to liven up our downtown, to extend activity beyond the major urban centers that we have," said project member Josh Horrocks.
For their project, the graduate and undergraduate students examined the alleys and strips of land adjacent to Arrow Press Square, the Capitol Theater, Exchange Place and the Rose Wagner Center. [CLICK HERE for more locations studied in the The City Narrows project]
Over the years, Salt Lake City's big blocks were divided and divided again as owners developed their properties. The result: big blocks with vastly different interiors.
"With their development, we can brand them together to be one complete project," Horrocks said.
The students believe The City Narrows could be a loose network of walkways, used for shopping and dining, that link together bigger districts.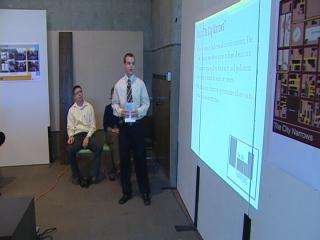 "Each narrow in each block is different," Horrocks explained. "That allows them to be constructed differently. That allows them to have different amenities."
Right now, there is not a specific plan in the works. The students wanted to demonstrate what kind of beautification and small business development can occur in places that are usually overlooked.
This kind of development could start one small piece at a time. One property owner looks forward to seeing this concept grow.
"This is a great first step in making these mid-block crossings happen -- more than happen, make them activated and part of our community," said Vasilios Priskos, with Internet Properties.
Business leaders like Priskos often look to successes in downtown Portland as opportunities that could flourish here. Portland has smaller downtown blocks, which facilitate higher density development.
"It's nice to see a map that actually cuts Salt Lake into these smaller blocks, and that it's physically possible to create something like a Portland model here in Salt Lake," Priskos said.
The students plan to spread the word on this concept and hope their blueprint leads to the first test projects.
This kind of development can take shape in small pieces; it does not need to be a large-scale, government-driven project. For that reason, the students are optimistic their vision for The City Narrows could become reality.
E-mail: jboal@ksl.com

View SLC Alleys in a larger map
×
Photos
Most recent Utah stories