Estimated read time: 2-3 minutes
This archived news story is available only for your personal, non-commercial use. Information in the story may be outdated or superseded by additional information. Reading or replaying the story in its archived form does not constitute a republication of the story.
Sam Penrod ReportingA Utah County family doubled in size today with the marriage of a man and woman and their children from a previous marriage.
While that's not unusual, these two families were already big by most standards with 13 children each.
As Bob Memmott and Corinne Hanks were married today, they had 76 well-wishers cheering them on. But those 76 only include their children, children-in-law and grandchildren.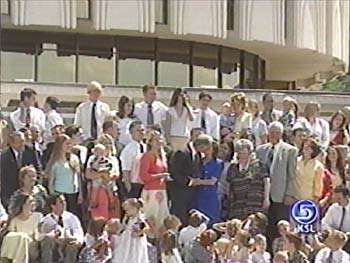 The couple, each of who had 13 children from a previous marriage, began dating a year ago.
David Hanks, son: "Some of my mother's co-workers set her up on a blind date with Bob. It was just a funny coincidence at the time that they each had 13 kids."
For their children, the idea of another 13 brothers and sisters in the family came as a big surprise.
Ben Hanks, son: "I heard they were getting serious and everything and there would be 13 more, and I was like, wait a second is this true?"
The children now range in age from 34 to 13.
Their children believe their parents found the perfect match.
Jamie Memmott, daughter: "We always wanted to have a mom who could understand our family situation and Corinne understands us very well."
The children have found there are advantages.
Trevor Memmott, son: "There will always be somebody to hang out with, you'll never get bored."
And after growing up with 13 kids in your family, what are another 13?
Ben Hanks: "It's just double. I mean, it took a while to learn all the names, but basically like my family now, just everybody has a twin."
Bob and Corinne Memmott say they expect some challenges, such as remembering names and getting everyone together, but they say their children will be an important part of their marriage.
Bob Memmott: "It's a big family, but we find there's a lot of fun together; we've enjoyed coming together and learning about each other."
Corrinne Memmott: "It's been a blessing to walk the same paths."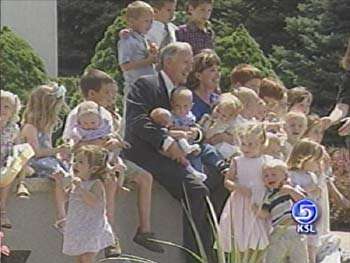 Now the path the two will walk will include 26 children following behind.
The newly expanded Memmott family plans to live in Mapleton with eight children who will live at home.
They are looking to buy a house with a very big room, to accommodate family gatherings.
×
Most recent Utah stories