Estimated read time: 2-3 minutes
This archived news story is available only for your personal, non-commercial use. Information in the story may be outdated or superseded by additional information. Reading or replaying the story in its archived form does not constitute a republication of the story.
OGDEN -- The Weber State Wildcats (4-4, 1-0 Big Sky) are hosting the Thunderbirds of Southern Utah University (3-6) Saturday night.
Weber State escaped a barnburner against Montana Tech 73-70 earlier in the week. Montana Tech came out strong and outplayed and out-hustled Weber State. The Wildcats were able to hang around and eventually win the game.
"We didn't play hard enough, we didn't compete hard enough, we weren't as energized as we needed to be," said WSU Head Coach Randy Rahe, clearly upset with how his team played against Montana Tech. "We got to be an aggressive basketball team, we are not going to out-talent anybody, we got to play a certain way to have a chance, and we didn't play that way tonight."
Despite his obvious disappointment, Rahe has already moved on.
"We obviously didn't have a very nice post-game chat, but that game is history and we move forward."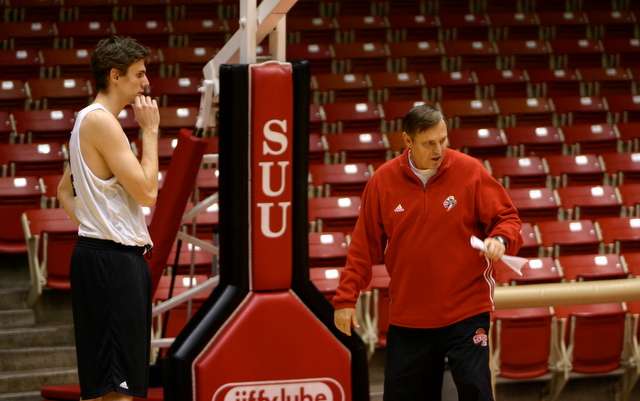 The Wildcats now look forward to the Thunderbirds, who are coached by Roger Reid. Reid has coached on every single level; ranging from high school to the NBA, and helped coach BYU to five NCAA tournament berths.
"I have great respect for Coach Reid. He's probably forgotten more basketball than I know," said Rahe. "I do know his teams begin everything on the defensive end."
The Thunderbird defense has been hassling teams all season long; holding all but one opponent (Utah State) under 50 percent and have held seven teams to under 43 percent from the field.
The Wildcats are aware of the T-Birds' tough defense.
"They hound you and dog you into turnovers and make it very uncomfortable to run your offense," added Rahe.
The Thunderbird defense may struggle to force the Wildcats into turnovers. Weber State is averaging just 11 turnovers a game and has posted less than ten turnovers in each of the last three games.
---
[SUU's] Davis Baker is a player who can put 30 or more on you in a heartbeat. He presents a tough match up for us.
–WSU Head Coach Randy Rahe
---
SUU is led by senior guard Davis Baker, who has been disrespecting defenses all season long. Davis has been averaging 16.2 points per game this season and dropped in a career high 34 points against Centenary.
"Davis Baker is a player who can put 30 or more on you in a heartbeat," noticed Rahe. "He presents a tough match up for us."
Rebounding will be key in this game; both teams are strong on the glass. Weber State has been out-rebounding teams all season long despite their lack of height.
The Wildcats are led by 6 foot 2 inch junior guard Franklin Session, who is averaging 6.6 rebounds per game and in one game earlier this season grabbed 18 rebounds. SUU is led by 6 foot 9 inch sophomore center Matt Massey, who is averaging 6.3 rebounds per game.
Weber State will have their hands full against a well-coached SUU basketball team, but if they focus on what they do well, taking care of the ball and rebounding, and play with the energy and aggressiveness Rahe demands, the Wildcats have a solid chance to win at home.
Tipoff is set for 7:05 p.m. from the Dee Events Center.
×
Most recent Sports stories