Estimated read time: 2-3 minutes
This archived news story is available only for your personal, non-commercial use. Information in the story may be outdated or superseded by additional information. Reading or replaying the story in its archived form does not constitute a republication of the story.
John Daley Reporting A teenage driver, who police say was under the influence of alcohol when his car hit and killed three members of a Salt Lake family, was in court today.
Cameron White made his first court appearance, and as I discovered, this case is already making an impact on fellow students.
Cameron White is a popular senior here at Skyline High. He was a starter on the football team.
Teachers and driving instructors here have long taught students about the dangers of drinking and driving. Now, they have a chilling example that cuts close to home.
The accident was one of the worst in recent memory, killing Michelle Williams, her unborn child and two children, Ben and Anna.
Joey Daugirda, Skyline Sophomore: "It just kind of makes you open up your eyes."
Glade Snyder, Skyline Sophomore/Football Player: "Kind took a blow at home considering that he's from Skyline and you know kind of makes you realize that this can really happen close to where you're at."
Josh Weight, Skyline Sophomore/Football Player: "Mainly our football coach, he's gone over it a lot and said how bad it is and how it can change your life. And it did, so, he's just telling us not to do it."
"It" is drinking and driving, and today in juvenile court Cameron White faces four charges of automobile homicide.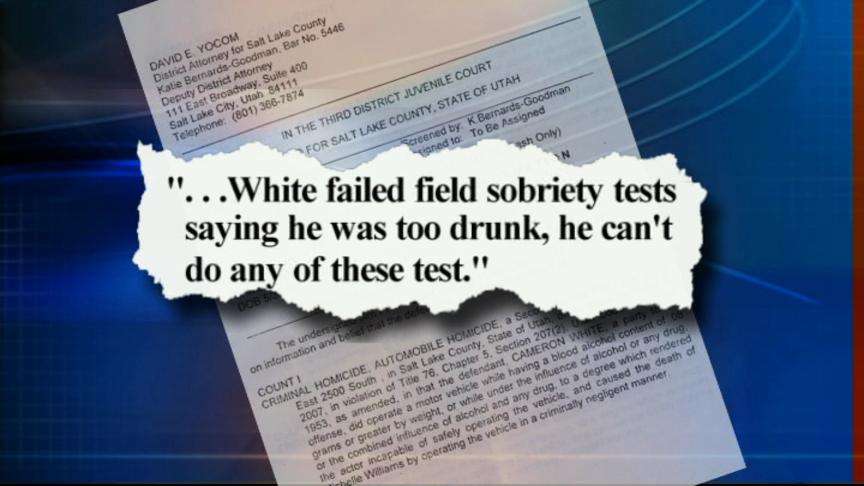 According to court documents, police say White fled the scene and was found blocks away. He failed sobriety tests, telling police he was "too drunk..." His blood alcohol level was at .15, twice the legal limit.
Preston Raban, UHP Trooper: "Alcohol levels to that point let you know that this individual had quite a bit in his system."
A spokesman for UHP says fatalities involving teens drinking and driving are relatively rare in Utah compared to other states.
In 2005, the most recent year there's data, of 14,000 DUI arrests in Utah, 9% were drivers aged 15 to 20.
This grim case clearly provides a wake-up call, regarding the possible consequences.
Preston Raban, UHP Trooper: "I hope they look at this and say that's a tragedy. I would never want to be involved in something like that. And hopefully it's a learning experience for them. This could happen to any of them that are in that situation."
Joey Daugirda, Skyline Sophomore: "You got to open up your eyes. If anything is going on, get out of there. Avoid anyone that's drunk."
Cameron White is currently in juvenile detention and has a series of court hearings coming up, one which will determine if he'll be tried as a juvenile or an adult.
×
Related links
Most recent Utah stories