Estimated read time: 2-3 minutes
This archived news story is available only for your personal, non-commercial use. Information in the story may be outdated or superseded by additional information. Reading or replaying the story in its archived form does not constitute a republication of the story.
PROVO -- Provo police said Thursday the father of a 4-year-old girl found outside in the snow knew he had left his kids with no one to watch them.
On Tuesday evening around 5:30, two people were heading to an old house that had been turned into an apartment complex along near 400 South and University Avenue. They saw the child outside, wearing only pajamas, and crying in the snow.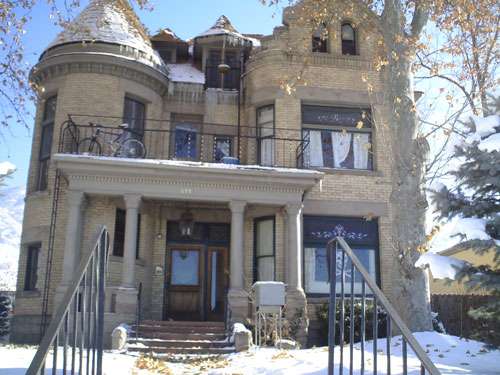 They took the girl into a commons area of the house to get her warm and called police. While calling for help, they also could hear a young child "screaming at the top of his lungs," according to Provo police Capt. Cliff Argyle.
Shortly after police arrived, the girl's father, 37-year-old Richard Kelly, pulled up into the parking lot outside. Argyle said officers could smell alcohol on the man.
Police then entered the man's apartment, which was where the screaming was coming from. Once inside, they found an 18-month-old boy. They also found the child's mother, 23-year-old Amber Palmer, passed out on a couch.
Argyle said it took at least five minutes to get any response from the woman, whom they believe had taken prescription drugs and alcohol.
During an interview with Kelly, who is the father of both childre, police learned he was at the apartment when the woman passed out, and then he left.
"When he left the home, he knew the status of the mother and her condition, leaving those two very small children with her and her being incapable of caring for them," Argyle said.
After her father left, the girl somehow made her way outside but was unable to get the doors open to get back in. The temperatures outside were dipping into the single digits at the time.
Argyle said the two neighbors got to the girl before she was hurt.
Both the mother and father were booked into jail for child neglect. Police said the woman also tried to fight with officers when she was arrested, so a resisting arrest charge was added. The man was also booked for DUI.
The children are now in protective custody.
------
Story compiled with contributions from Randall Jeppesen and Nicole Gonzales.
×
Most recent Utah stories