Estimated read time: 2-3 minutes
This archived news story is available only for your personal, non-commercial use. Information in the story may be outdated or superseded by additional information. Reading or replaying the story in its archived form does not constitute a republication of the story.
Dina Freedman Reporting Students from City Academy in Salt Lake took on a new project that helps them get around. I went to check on this group working on new fuel methods.
They are using vegetable oil to create the biodiesel, which is now powering a school bus they got on eBay to use for field trips.
Libby Giles, High School Student: "We're doing titration, and that's to see what the PH of the oil is, because if it's more acidic or really basic, it's not good to make biodiesel out of."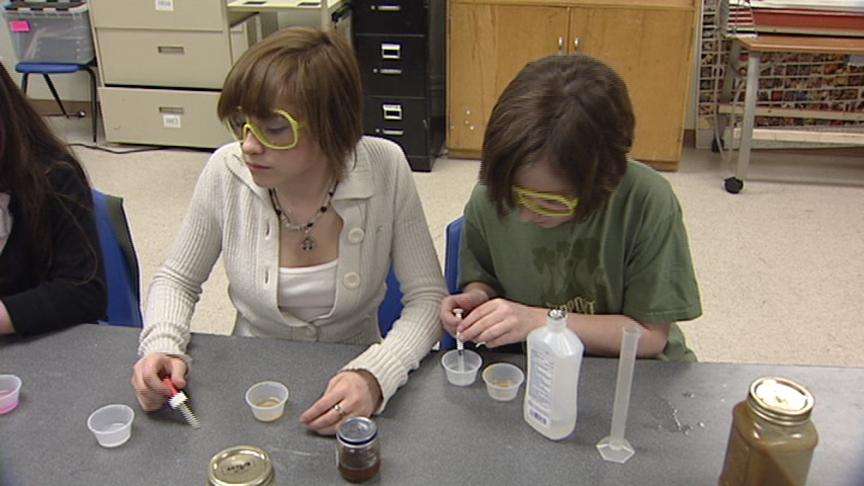 Their science teacher, Shea Wickelson,is helping them learn how to make biodiesel, a combination of used vegetable oil and other chemicals.
Shea Wickelson, Science Teacher: "We spent a whole year of chemistry curriculum tying chemistry concepts to our coming up with sort of the perfect biodiesel formula, and all of the students did their own independent research."
Today the students were staying late, making more fuel for their next trip.
The students start out by collecting used vegetable oil from various restaurants around town. We can see this one here is not a good candidate for biodiesel because it's thick like a solid. This other (oil) is because it's more liquidy, so it is a good candidate. Now they take those oils and make it into biodiesel. Eventually, they make gallons of it and put it straight into the tank.
Maddy Hartley, High School Student: "We didn't have to convert it. We didn't have to add anything; we just run the biodiesel just like we would normal diesel, and the thing about biodiesel, the point of biodiesel, is to make vegetable oil a little less thick."
The used oil doesn't put more carbon dioxide into the atmosphere, and if you're behind the bus, it smells like grease instead of fumes.
They can make up to about 25 gallons of the biodiesel, and the total cost per gallon is only around 50 to 75 cents.
To find out more about biodiesel, visit the links on the right.
×
Related links
Most recent Utah stories