Estimated read time: 1-2 minutes
This archived news story is available only for your personal, non-commercial use. Information in the story may be outdated or superseded by additional information. Reading or replaying the story in its archived form does not constitute a republication of the story.
Keith McCord ReportingWhen the Outdoor retailers hold their annual Summer and Winter conventions in Salt Lake, it's always fun to see some of the newest gadgets that will be soon be for sale.
Keith McCord found one today that can be used by either a four-year old or a soldier in a combat zone. At first glance, you'd probably call it a flashlight. Its official name: "Multi-Function Lighting System"-- invented, designed and shipped from Moab, Utah.
At the Outdoor Retailers Market today Greg Kennedy showed it off in his darkened exhibit booth. Greg and his brother own an outdoor store in Moab and wanted to come up with something more versatile and environmentally sensitive than those chemical sticks.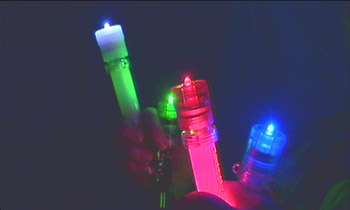 These are battery-operated; they weigh less than 3 ounces. They can be attached to a bike seat; kids can use them as they go "Trick or Treating," and just think about how handy one of these would have been last night in New York!
Greg Kennedy, V.P. Lazerbrite: "Let me tell you, I thought a lot of about that last night. Can you imagine being on a subway train and the power goes out, and you have a few boxes of these and you hand one to every ten people, and move safely out of that train."
For the military, soldiers in Iraq used those chemical glow sticks by the thousands and they just toss them out when they're done. All they really need is a couple of these and some batteries.
The Multi-Function Lighting Systems are sold in retail stores around the country and the folks at Lazerbrite say they are working with all branches of the military to come up with a specific design for them.
×
Most recent Utah stories