Estimated read time: 2-3 minutes
This archived news story is available only for your personal, non-commercial use. Information in the story may be outdated or superseded by additional information. Reading or replaying the story in its archived form does not constitute a republication of the story.
Jill Atwood reportingGordon Anderson/witness: "WHAT WAS ONCE A MEANDERING LITTLE STREAM ALL OF A SUDDEN BECOMES A RAGING TORRENT."
Flash flooding in Capitol Reef traps an unsuspecting tourist in high waters. It happened yesterday during a torrential dowpour . The home video is incredible from the first few moments to the dramatic rescue.
A park ranger says this is the worst flash flooding they've ever had. Three quarters of an inch of rain in 15 minutes. The flash flooding provides an element of beauty rarely seen in the slick rock country of Capitol Reef, but that much water also sure brings an element of danger.
Gordon Anderson of Richfield was returning from a camping trip when he happened upon this scene, 64 year old Janie Hutchinson of New Mexico clinging to nothing more than a twig.
Gordon Anderson/witness: "I COULD SEE WHAT WAS DOWN STREAM, I COULD HEAR THE RUSHING OF THE WATER I COULD HEAR BOULDERS BANGING OFF THE SIDES OF THE CANYON WALLS..."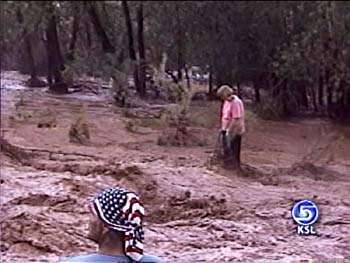 Within a minute or two...a trickle of a stream had become a raging river..showing no mercy on this unsuspecting tourist.
Gordon Anderson/witness: "AT ONE POINT IN TIME SHE SAID MY FOOTING IS STARTING TO ERODE..I'M GONNA..AND THAT'S WHEN THE WATER WAS STARTING TO RISE AGAIN AND THAT'S WHEN THEY DECIDED THEY WERE GOING TO GET THE ROPE AND THE LIFE JACKET TO HER."
The first couple tries..no go.
Gordon Anderson/witness: "OH THE PEOPLE WERE ALL INTO IT AND WHEN THEY'D MISS THEY'D YELL OH NO..AND THEN WHEN THEY FIANALLY GOT IT TO HER THEY WERE REALLY EXCITED AND RELIEVED."
Finally, realizing her sweat pants were really feeling the drag..she decided to take them off..hoping she could move a little easier..that's when she lost her footing. Moments, she disappeared beneath the murky muck for what must have seemed like forever for people watching.
Fortunately, she had many strong, able men on the other end, who kept on pulling.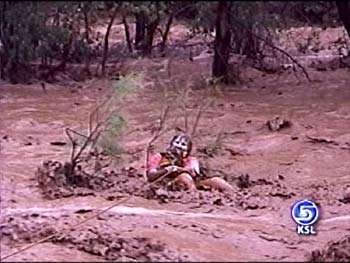 Gordon Anderson/witness: "I KNEW THAT SHE WAS REALLY CONCERNED BUT ONCE SHE MADE IT..SHE HAD A SENSE OF HUMOR THAT CAME OUT..AND I THOUGHT IT WAS REALLY NEAT."
In case you didn't catch that...Huthchinson emerged from the river covered with chocolate brown mud..and shouted that's one way to get a tan.
We understand Hutchinson is just fine tonight, just a slight injury to her hand.
Experts say always keep an eye to the sky, and think ahead..especially during these monsoon months.
×
Most recent Utah stories