Estimated read time: 2-3 minutes
This archived news story is available only for your personal, non-commercial use. Information in the story may be outdated or superseded by additional information. Reading or replaying the story in its archived form does not constitute a republication of the story.
John Hollenhorst ReportingOne of Salt Lake City's most unusual places is getting the "once-over" to make sure it's still around for future generations to appreciate. It's called Gilgal Garden and it has sculptures the likes of which you'll never see anywhere else.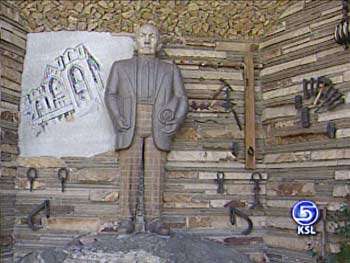 It isn't often that art experts get to work on The Sphinx, particularly a sphinx with the face of Joseph Smith. The amazing sculptures of Gilgal Garden are getting their first professional brush-up since they were created a half-century ago.
Molly Lambert/Art Conservator: "To conserve the sculptures, to make them last as long as possible, and to keep them as visually interesting as possible to the public because this is a public park."
Once it was the private domain of stonemason Thomas Child. He dreamed the place up and populated it with rocks, sculptures and engravings. They depict themes of religion and stonemasonry, morphed and molded by Child's own imagination.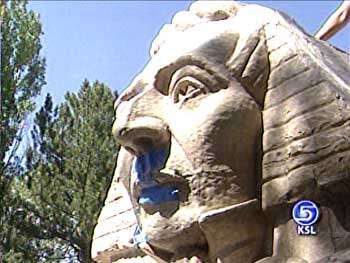 Paul Stenger, Amateur Photographer: "So I don't think I would call it eccentric. But it is unusual. That's for sure. It's just a wonderfully unique place and I appreciate his work very much."
Since the garden is hidden away in the middle of a city block, a lot of people over the years have tended to think of it as their own little secret. Now it's a city park. It was almost bulldozed a few years ago to make way for condominiums. Art lovers rallied to the defense of Thomas Child's brainchild. They contributed money to buy it, save it for posterity and do a long-term renovation project.
Cathy King, Friends of Gilgal Garden: "We're going to do what we can to restore it to its former glory, the way it was when Thomas Child first built it."
They're still raising money. It will cost roughly a third of a million dollars over the next ten years to put a new shine on the unique vision of Thomas Child. John
Gilgal Garden is open to the public seven days a week, except on Christmas, New Years and Thanksgiving, The gate is on 5th South, between 7th and 8th East, in the middle of the block just north of Trolley Corners.
×
Most recent Utah stories