Estimated read time: 2-3 minutes
This archived news story is available only for your personal, non-commercial use. Information in the story may be outdated or superseded by additional information. Reading or replaying the story in its archived form does not constitute a republication of the story.
SALT LAKE CITY (AP / KSL News) -- Firefighters made progress Friday against the controlled burn that got out of hand in the Cascade Springs area of the Uinta National Forest, and officials lifted a health advisory that had been in place because of heavy smoke from the blaze.
New estimates released this morning on the fire show that more than 5,800 acres have burned in this fire over the last four days. Firefighters are beginning to make some progress, they now say that they have contained ten percent of the fire, getting some help when the reservoir acted as a fire break.
The fire which started as a prescribed burn on Tuesday, is now getting a huge amount of resources. About 230 firefighters were battling the fire, with help from six helicopters, 13 engines and two bulldozers. Fire officers say so far today, the winds remain calm and fire crews are trying to take advantage of the good weather conditions.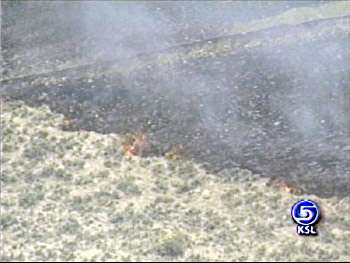 On Friday, the Utah Department of Environmental Quality lifted the health advisory issued Wednesday and Thursday after smoke blanketed the valley over Salt Lake and Utah counties.
"The data indicate that air quality is in the `moderate' range," said Cheryl Heying, Air Quality Planning Branch Manager.
Exposure to the hazy air still should be limited, Heying said.
The fire started Tuesday as a prescribed burn that was supposed to burn 600 acres of mountain brush. But winds blew the embers outside the fire lines.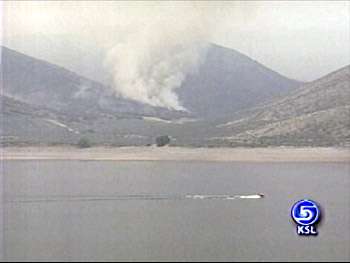 Those planning recreation in this area over the weekend will have to change their plans Deer Creek Reservoir is now closed to all boating, that's to eliminate any dangers because of the six helicopters using the reservoir as a water source. And many forest roads off of the Alpine Loop Road that lead into the burn area are closed, however for now the loop road itself remains open.
An internal review panel from the U.S. Forest Service regional office in Ogden will start reviewing documents leading up to the prescribed burn and look at what went wrong.
"It may not be for a week or two that this gets done because suppression right now is the top priority," said Kathy Jo Pollock, Forest Service spokeswoman.
(The Associated Press contributed to this story.)
×
Most recent Utah stories