Estimated read time: 2-3 minutes
This archived news story is available only for your personal, non-commercial use. Information in the story may be outdated or superseded by additional information. Reading or replaying the story in its archived form does not constitute a republication of the story.
Ed Yeates ReportingResearchers have come up with yet another technique to correct farsightedness. But this time the technology pulls it off without any incision, surgery or removal of tissue.
Since it was approved by the FDA last year, four Utah doctors are now certified to use the device. What really surprises the people who've already had this done to their eyes is its simplicity -- how easy it really is and how quickly it happens.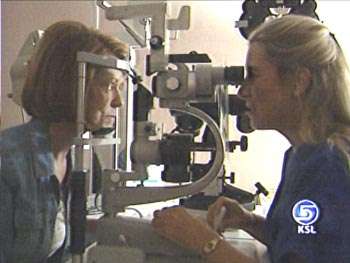 Anita Bangerter had what is called CK about two months ago. Unlike LASIK surgery, CK needs no surgery, no cutting, no removal of anything.
Anita Bangerter, CK Patient: "Just a slight amount of pressure. It was easier than putting in contacts."
It took Dr. Sally Thompson only three minutes to reshape Anita's cornea. The day following the procedure she could read and see things close up. Anita was no longer farsighted.
Dr. Thompson is like other surgeons around the country who've gone through training and become certified to do CK.
Sally Thompson, M.D., Ophthalmologic Surgeon: "It isn't very intimidating. There's not a lot of stuff they have to do. They really don't have to cooperate during the surgery like they do with Lasik. So for most patients, this is a very low stress procedure for them to undergo."
Instead of a knife, even a laser, CK uses non-invasive radio frequency waves to vibrate and shrink the collagen in a circular pattern around the edges of the cornea.
Another amazing feature of this new technology is its size. It's portable, and the actual instrument that touches the eye is thinner than a human hair. A thin strand probes the sides of the cornea enough only to transmit the radio waves. As the band of collagen tightens, the cornea reshapes itself.
As far as side effects are concerned…
Thompson: "There's been nobody who has had any permanent loss of vision. There's been no one who's had any problems with halos and glare and nobody who's had any permanent dryness from this procedure."
Also, because the CK device is portable, it can be taken anywhere the doctor needs it.
CK costs about 12-hundred to 15-hundred dollars per eye, which is comparable in price to LASIK surgery.
×
Most recent Utah stories