Estimated read time: 2-3 minutes
This archived news story is available only for your personal, non-commercial use. Information in the story may be outdated or superseded by additional information. Reading or replaying the story in its archived form does not constitute a republication of the story.
PROVO -- Saturday's big Utah-BYU rivalry game was just as much about the fans as it was about the team.
Before the game, fans poured into LaVell Edwards Stadium in Provo by the thousands -- wearing the required blue and red.
Inside the stadium, a sea of blue and red screamed as both teams took the field. Those who didn't come to watch the actual game had plenty of people watching to do. Fans dressed up in wigs, painted their faces and toted elaborate signs.
Related:
Nancy Whittingham dusted off her trusty headdress in honor of her son -- Utah Head Coach Kyle Whittingham. She says she wears it just once a year, and saves it for the big game.
"Oh everyone loves it," she says.
Best friends and BYU fanatics Kerry Olsen and Stephen Grey can't count the number of games they've attended, and yes, they always dress up.
"We don't care if we lose our voice," says Grey. "It's what we're here for -- BYU football!"
Sometimes, the outfits may not be as loud, but they speak volumes about the people wearing them. We caught Ute fan Chris Barbera wearing blue and red.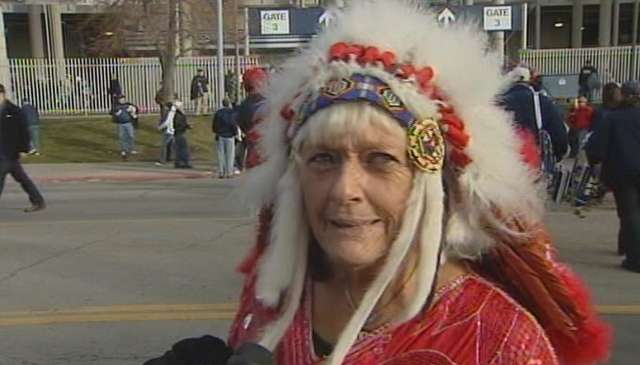 "Here's the problem," he said. "I'm from Santa Rosa, California and I don't wear heavy coats. It's the only color I had."
The Vernon family from Riverton had a little dispute going on. Son Riley and his best friend bleed blue, while mom and dad cheer on the Utes.
"He [Dad] constantly teases them [the boys] nonstop. He's always painting our car and stuff like that. He tells them 'If you cheer for BYU today you're going to walk home," says mom Nicole Vernon.
Riley can dish it out too. "I just decided that if they were such big Utah fans, I decided to make them crazy," he said.
Shawn Vernon says Riley's antics are working. "I'm not happy about it, but they're their own people."
Bottom line -- it's not really about winning or losing. It's about loving a long-standing rivalry, and it's always about what you wear.
With so many people in attendance, however, there were some problems. Security guards escorted some fans out of the stadium. We saw two people handcuffed by police and taken off the property.
For the most part, the atmosphere was fun and friendly, and fans were not disappointed.
E-mail: sdallof@ksl.com
×
Photos
Related stories
Most recent Utah stories