Estimated read time: 2-3 minutes
This archived news story is available only for your personal, non-commercial use. Information in the story may be outdated or superseded by additional information. Reading or replaying the story in its archived form does not constitute a republication of the story.
Jed Boal ReportingA family still grieves after a South Jordan boy was accidentally shot and killed by his best friend last month. Now the little boy's sister is taking a stand against gun violence and telling people about the impact the shooting had on her family. She warns all gun owners it is their responsibility to make sure guns are safely out of reach of children.
The Gun Violence Prevention Center of Utah and supporters gathered today at the Jordan International Peace Gardens to remember victims of gun violence. They view gun violence as a major public health issue that needs to be dealt with.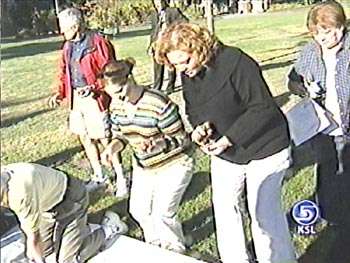 Melissa Owens lost her 12-year old brother Jake early last month. Today she helped plant 1000 daffodils at the Peace Gardens to honor those killed or injured by guns.
Melissa Owens, Jake's Sister: "Of course it is a great void in my family to have lost him. It is a great void in the community."
Jake and his 14-year old best friend were cleaning out a neighbor's garage in early September. The older boy found a loaded gun and moments later, while handling it, the gun went off; a bullet hit Jake in the head.
The ten-year old organization says it is not radical, in fact conservative.
Toni Marie Sutliff, GVPC President: "We seek just to educate people about what happens when guns are in the hands of the wrong people."
Three times this year, and twice in September, Utah teens died in accidental shootings. More people were killed by firearms than in car crashes in 1998. Nationwide nearly 80 people die every day in firearm related incidents.
GVPC aims to reduce gun violence in the state by addressing firearm suicide, access of firearms to children, and the toll gun violence takes on families and communities. Melissa Owens never thought much about gun violence until her brother was killed.
Melissa Owens, Jake's Sister: "My parents live in a good community. You don't think about those things when you grow up in South Jordan. We didn't grow up with guns."
Owens thinks her brother's death could have been avoided if gun ownership had been taken more responsibly, but the owner of the gun faced no charges. Now her family and the family of the boy who handled the gun will always feel the grief.
×
Most recent Utah stories