Estimated read time: 2-3 minutes
This archived news story is available only for your personal, non-commercial use. Information in the story may be outdated or superseded by additional information. Reading or replaying the story in its archived form does not constitute a republication of the story.
UTAH COUNTY -- A common form of dizziness may be caused by the displacement of tiny crystals in the inner ear.
Audiologists at Utah Valley Regional Medical Center are finding more cases of this disorder and helping people through a simple treatment.
Sandy Sebring is undergoing a treatment for Benign Paroxysmal Positional Vertigo, or BPPV. She suffered dizzy spells for some time before doctors determined the problem.
Tiny crystals in her inner ear had migrated to an area responsible for keeping balance.
"I was so, so dizzy, I couldn't do anything. I couldn't bend over. I couldn't get out of bed," says Sebring.
Doctors are able to test for the ailment using equipment which follows eye movement, and it may be more common than you may think.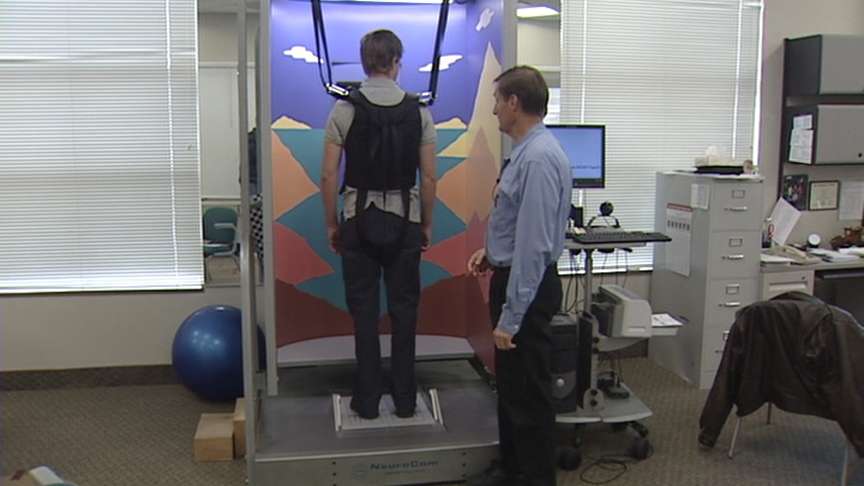 "It's a condition that is prevalent in about 20 percent of the general population, and it accounts for dizziness and imbalance problems for 50 percent or more of older people," says Kelly Dick, an audiologist at UVRMC.
Those under 50 who have suffered head trauma are more likely to have the disorder.
While dizziness can be caused by cardiovascular or neurological conditions, people who become dizzy with movement of their head may benefit by being tested for BPPV.
"The chances are fairly significant that it could be this positioning type of vertigo," says Dick.
The treatment involves a physical therapist who helps to get the tiny crystals back to where they belong in your inner ear using a camera which watches eye movement, indicating balance.
"It's been underdiagnosed, and people are just amazed that such a simple thing can cause such a dramatic change in just a few minutes," says UVRMC Physical Therapist Alan Nybo.
It's a condition which can be debilitating but easily cured if properly diagnosed.
People who believe they may have symptoms of BPPV are encouraged to talk it over with their doctor and be specific about the circumstances of when they feel dizzy. This helps determine if testing for the positional vertigo is warranted.
E-mail: spenrod@ksl.com
×
Most recent Utah stories