Estimated read time: 3-4 minutes
This archived news story is available only for your personal, non-commercial use. Information in the story may be outdated or superseded by additional information. Reading or replaying the story in its archived form does not constitute a republication of the story.
WASHINGTON (AP) -- Utah Gov. Mike Leavitt easily won Senate confirmation Tuesday to become head of the Environmental Protection Agency after Senate Democrats sharply critical of the Bush administration backed down in the face of an overwhelming Republican show of force.
The Senate voted 88-8 to hand Leavitt the reins of the 18,000-employee agency. President Bush's nomination of Leavitt was helped by the Utah Republican's three terms as governor, during which he forged personal relationships with many Democrats who also were governors.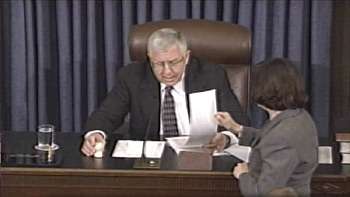 "He's very good at bringing people together," Sen. Tom Carper, D-Del., said moments before the vote in explaining why he was supporting Leavitt.
Sen. Orrin Hatch, R-Utah, said, "The record is clear that Michael Leavitt is a champion of the environment."
After weeks of efforts by some Senate Democrats to block or delay the confirmation, only eight Democrats voted against Leavitt.
One of them, Sen. Frank Lautenberg of New Jersey, said he wanted more time to hear from congressional researchers about Leavitt's record in Utah and whether he "shares the same disregard for" the environment he said was shown by President Bush.
"Do we really want to return to the days when rivers caught fire and people literally keeled over from air pollution?" Lautenberg asked.
Sen. James Inhofe, R-Okla., who chairs the Senate Environment and Public Works Committee, said, however, that opponents were "misrepresenting the Bush administration's progress" on the environment and distorting Leavitt's record.
"We desperately need to have this man in this office," Inhofe said of Leavitt, who was nominated in August to fill the vacancy resulting from Christie Whitman's departure in late June.
Leavitt has promised to promote "a higher and more meaningful level of cooperation and the application of new technologies" to protect the nation's environment.
"We need a leader at the agency," echoed Sen. Jim Jeffords, I-Vt., who preceded Inhofe as environment committee chairman. A spokesman for Jeffords, who urged holding up the nomination to get more information about EPA's recent changes to air pollution rules, said the agency had promised to provide the senator with estimated benefits, not just costs, of Jefford's proposed plan to reduce power plant pollution, which is competing with a plan proposed by the president.
It had become apparent Monday that Senate Republicans could easily muster the 60 votes needed to end the Democrats' delaying tactics, meant to protest Bush administration environmental policies.
Minutes before the Senate was to have taken a procedural vote to clear the way for a final vote on Leavitt's confirmation, Sen. Hillary Rodham Clinton, D-N.Y., dropped her opposition to the nomination.
She explained that the White House had told her in a letter that it would take additional steps over two years to protect New York City residents who potentially had been exposed to harmful substances from the World Trade Center rubble.
"I'm pleased we've made this progress with the White House ... and I hope their cooperation is an indication of a new attitude," she said.
Clinton and three Democratic presidential contenders in the Senate -- Joseph Lieberman of Connecticut, John Kerry of Massachusetts and John Edwards of North Carolina -- led an effort for weeks to block a vote on Leavitt, to make an issue of Bush administration environmental policies.
(Copyright 2003 by The Associated Press. All Rights Reserved.)
×
Most recent Utah stories