Estimated read time: 2-3 minutes
This archived news story is available only for your personal, non-commercial use. Information in the story may be outdated or superseded by additional information. Reading or replaying the story in its archived form does not constitute a republication of the story.
Kimberly Houk ReportingUtah is more prepared to handle cardiac emergencies thanks to a new trial study that trained more than two-thousand people from all over the state on how to use a compact defibrillator.
Money from a federal grant is making it possible to put compact defibrillators at different businesses all over the state. The machines are easy to use. You turn it on, put the pads the victim's bare chest, and then machine will tell you when to shock the victim.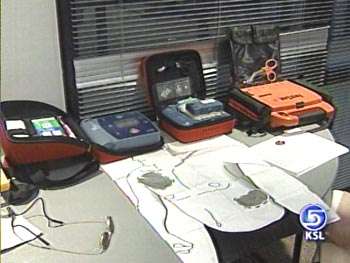 Don Wood, Utah Dept. of Health: "These things hang on the wall where john public can watch the person go down. Witness an arrest, pull the machine off the wall, defibrillate them, which is really the key to saving the life."
The defibrillator is so critical to saving lives that the state is using money from a federal grant to put these machines in rural areas. They'll go in gyms, airports, malls, and on golf courses in towns that aren't near hospitals.
Don Wood, Utah Dept. of Health: "The quicker access to that patient with that defibrillator, the greater chance of survival you have for them."
Quick access to a defibrillator saved Jerry Johnston's life more than three years ago when he collapsed in the Dallas airport. A flight attendant grabbed a defibrillator.
Jerry Johnston, Survivor: "Kelly shocked me back and brought me back around. And when I came out of it, I thought I had just passed out."
Johnston was rushed to the hospital where he underwent triple by-pass surgery.
Jerry Johnston: "They told me later that without American Airlines having that defibrillator device when I went down to that airport, my chances of survival were one in a hundred."
Survival rates decrease by 10 percent for every minute a cardiac arrest victim goes without defibrillation.
×
Most recent Utah stories