Estimated read time: 2-3 minutes
This archived news story is available only for your personal, non-commercial use. Information in the story may be outdated or superseded by additional information. Reading or replaying the story in its archived form does not constitute a republication of the story.
SALT LAKE CITY -- Some lanes on I-15 in Salt Lake will have to be shut down next week because interstate signs that have been tagged with graffiti need to be replaced.
About two weeks ago, someone hit the southbound exit 304 sign with orange paint. The paint doesn't really cover anything, but Utah Department of Transportation spokesman Nile Easton says the signs will have to be cleaned or replaced.
"We'll have to go in with a crane lift and a boom lift and clean off that sign," says Easton. "It's not safe for our crews, and it's not safe for our motorists."
Replacing signs isn't cheap. He says, "The big signs can cost upwards of $10,000."
Utah Highway Patrol Sgt. Gary Caldwell says it's dangerous any time you have to shut down interstate lanes. On Oct. 25, a construction worker was killed on I-215 when a driver hit him, even though the lane he was standing in was closed.
Caldwell says, "It's not a joke. Shutting down lanes is serious for us."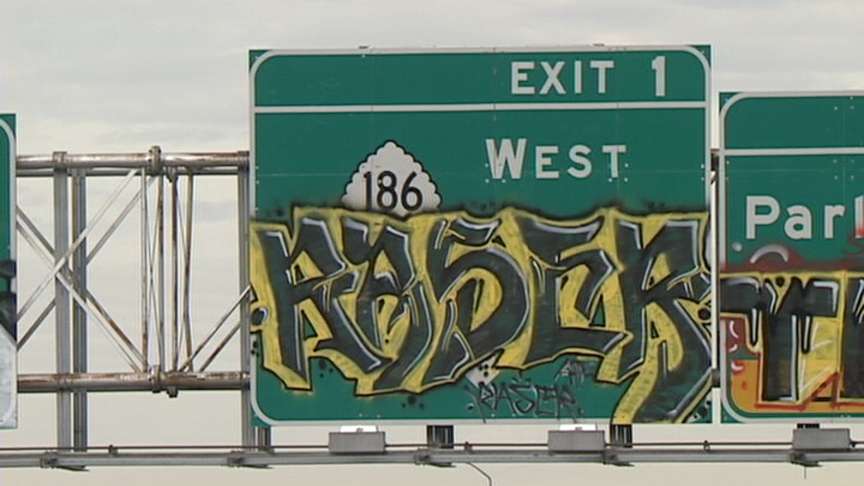 Graffiti on signs also creates problems for drivers. This past March, highway signs at the mouth of Parley's Canyon at I-80 and I-215 had to be replaced after they were nearly covered with graffiti.
"When drivers are approaching the sign and looking to see which way to go, if they swerve the wrong direction, it causes crashes," Caldwell said. "Graffiti on signs is dangerous, and we are sick of it."
Last year, UDOT spent close to $70,000 to replace signs hit with graffiti. This year, they're close to that number and may even pass it.
UDOT isn't sure how the orange paint got on the exit 304 sign. Easton thinks it could have been a paintball gun or a paintball water balloon, but says it could've been something else entirely. He just wishes those who tag highway signs would stop.
He says, "It's not safe for our crews, and it's not safe for our motorists, so to have to do it just because somebody thought it would be funny to paint a sign, it's just a stupid thing to do."
E-mail: acabrero@ksl.com
×
Most recent Utah stories