Estimated read time: 2-3 minutes
This archived news story is available only for your personal, non-commercial use. Information in the story may be outdated or superseded by additional information. Reading or replaying the story in its archived form does not constitute a republication of the story.
Richard Piatt ReportingUtah now has a new governor and lieutenant governor. A transition of power is now complete. Olene Walker and Gayle McKeachnie's inauguration was a historic ceremony this morning.
Olene Walker didn't dwell in the pomp and circumstance too long; she went to work right away. The transition started with a simple signature: Michael Leavitt resigning office with the stroke of a pen. Then it was Olene Walker's turn to step into the spotlight with an oath.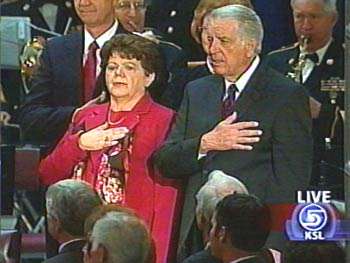 A quick handshake, and then Husband Myron Walker got his first Gubanatorial kiss, followed by a 19-gun salute outside. Then the new lieutenant Governor took his place in history with an oath of his own.
Witnessed by more than 25-hundred people in a highly decorated Capitol rotunda, the transition moved to an Inaugural speech: the first official words from Governor Walker, where she revealed a sense of humor.
Gov. Olene Walker: "My staff and I have been spending the last week working on the drought. And we've been somewhat successful."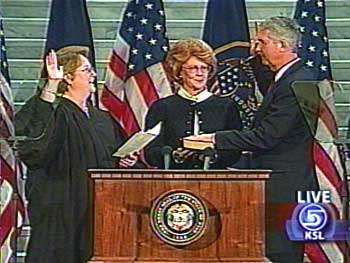 But it is with gratitude and humility that Walker takes the reins of the highest office in the state. Well aware she was not elected as Governor, she promised to go to work immediately. Her goals: prioritizing the budget--in the legislature, she created the Rainy Day Fund; and a commitment to education--she comes from a family of educators.
Gov. Olene Walker: "Trust me, education is in my DNA."
Governor Walker plans to keep up the push on competency-based education, to stress reading skills. And, soluting Utah's first woman state Senator, Olene Walker pledged to blaze a path for the next 13 months.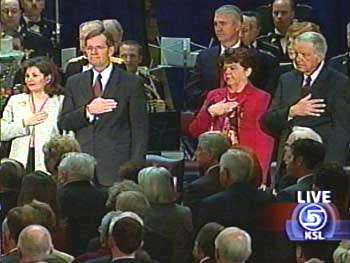 Gov. Olene Walker: "Martha Hughes Cannon, we will make you proud. Now is the time. Lets' get started."
A true test of Walker's leadership skills will be during this next Legislative session. The lawmakers KSL talked to predict she'll pursue her passion for education aggressively.
×
Most recent Utah stories