Estimated read time: 1-2 minutes
This archived news story is available only for your personal, non-commercial use. Information in the story may be outdated or superseded by additional information. Reading or replaying the story in its archived form does not constitute a republication of the story.
John Daley ReportingAt the Olympic bribery trial today more details about the high spending and free wheeling ways of Salt Lake bid committee came out.
On the stand was former Finance Director Rod Hamson. His testimony described staggering amounts of money being spent on IOC members with virtually no financial control.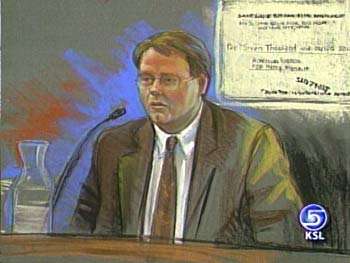 Brick by brick prosecutors are building their case. Today we heard about the extraordinary lengths Salt Lake's bid team went to keep IOC members happy.
On one occasion at a party, former SLOC President Tom Welch even gave on IOC delegate his own Rolex watch. When IOC members told Salt Lake's bid committee to jump, they asked how high? And there seemed no request too outrageous.
Fresh out of college Rod Hamson was made Finance Director and put in charge of the books for a multi-million dollar campaign. On the witness stand Hamson catalogued a head-spinning series of payments--all documented with Enron-style accounting.
In the months before the vote to award the 2002 Games, at an IOC consultant's request, Dave Johnson asked Hamson to send a thousand dollars a month to Zema Gadir. Seven thousand dollars total were sent to that person who turned out to be the fictional daughter of Sudanese IOC member General Gadir.
At this point it appears likely the trial will last longer than expected. Originally we were told to expect court proceedings to take four to six weeks. But this is now day eight and we are on the second witness on a list that includes more than 80 witnesses. We could be following this case for some time.
×
Most recent Utah stories