Estimated read time: 2-3 minutes
This archived news story is available only for your personal, non-commercial use. Information in the story may be outdated or superseded by additional information. Reading or replaying the story in its archived form does not constitute a republication of the story.
Jed Boal ReportingThe 109th Air Control Squadron has been busy since 9-11. Two days after the attacks they were deployed here in Salt Lake City. After a year-long break they're being called up again for a more dangerous mission.
Many eyes watch the sky in a war zone. Members of the 109th Air Control Squadron of the Utah Air National Guard are getting final briefings before tackling that job in the Middle East. They'll use a portable radar that conducts offensive, defensive and surveillance operations.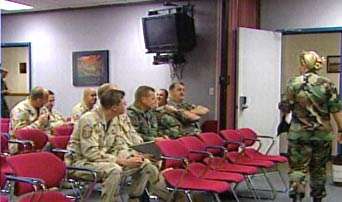 Senior Master Sergeant William Stubbs, 109th Air Control Squadron: "I wouldn't go to war with another group than these guys. They've leaned forward and asked them to do everything we've asked them to do and done it with a smile on their face."
The 109th's job in the field is to monitor the sky with an antenna and protect the area from any airborne threats.
Senior Master Sergeant William Stubbs, 109th Air Control Squadron: "We may just be surveilling the sky, looking for planes that don't want to be found. We may be engaging fighters in air to air combat, or defensive missions."
Senior Airman Ashton McCauley will deploy for the first time. When he found out he was leaving he and his fiancé decided to get married. They tied the knot about a week ago so it will be a difficult separation. But McCauley says he's proud to serve because he loves his country.
Senior Airman Ashton McCauley, 109th Air Control Squadron: "It's been hectic, want to make sure you take care of your family before you leave. That's been one of the priorities."
The squadron found out about their deployment six weeks ago. They've had time, but many know their families are anxious. The squadron leaves early Wednesday morning and expects to be gone seven to nine months.
×
Most recent Utah stories