Estimated read time: 2-3 minutes
This archived news story is available only for your personal, non-commercial use. Information in the story may be outdated or superseded by additional information. Reading or replaying the story in its archived form does not constitute a republication of the story.
John Daley ReportingAt the Olympic trial today was testimony about a crucial issue in the case, 130-thousand dollars a top Olympic sponsor says he gave in cash to defendants Tom Welch and Dave Johnson.
Prosecutors alleged the pair pocketed the money, but the defense team says the exchange will be explained later in the trial.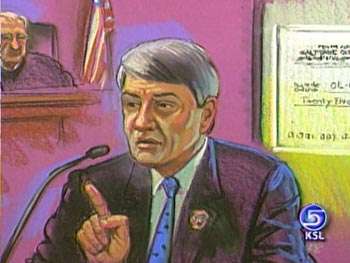 On display at the Olympic trial was the world created by the 'Lords of the Rings'--the royalty of the IOC--a world of cold hard cash, conflicts of interest, and, prosecutors say, corruption. One face of that world is Sead Dizdarevic, owner of Olympic sponsor Jet Set Sports, which sells pricey hotel and ticket packages.
On the stand the Croatian businessman smiles and casually explains how, at their request, he gave former Salt Lake Olympic leaders Tom Welch and Dave Johnson 130-thousand dollars in cash in 1994 and '95.
Dizdarevic, who was given immunity in exchange for his testimony, called the money a "business expense" and said it was handed off in envelopes at four prearranged meetings at hotels and airports.
Also, on three occasions in '94 and once before the Lillehammer Games, the bid committee gave Dizdarevic 70-thousand dollars -- 45-thousand in checks -- to a Canadian Jet Set company called OL-CAL and another 25-thousand dollars Welch gave to Dizdarevic in a hotel lobby in Norway.
Unclear from his testimony is who requested the exchange, Dizdarevic or the defendants.
On cross-examination one of Welch's attorneys uncovers some funny business in Jet Set's accounting—checks the defense believes were doctored to hide any connection between Jet Set and Salt Lake.
Blair Brown, Attorney for Tom Welch: "We certainly believe that Sead wanted to keep his contributions to the Salt Lake bid committee quiet unless and until they won. And that's why he went to great lengths to not have any paper reflecting the contributions to Salt Lake. Those were used for his tax returns and his books and records."
Also today, former USOC official Alfredo LaMont wrapped up his testimony, which revealed another series of under-the-table deals that lead to federal charges of tax fraud.
Alfredo LaMont, Former USOC Official: "It was my choice at all points in time. I had a choice. No one twisted my arm. Nobody forced me to do anything. That's what happened. I made a wrong choice and that's what it was."
LaMont now awaits word on a possible sentence for his Olympic choices.
Jet Set Sports did become a top Olympic sponsor for the 2002 Games thanks to an exclusive contract the company signed with the Organizing Committee, not while Welch and Johnson were there, but under then President Mitt Romney. Dizdarevic, who makes a 2 million dollar annual salary, testified that Jet Set made a 7 million dollar profit at the Salt Lake Games.
×
Most recent Utah stories