Estimated read time: 1-2 minutes
This archived news story is available only for your personal, non-commercial use. Information in the story may be outdated or superseded by additional information. Reading or replaying the story in its archived form does not constitute a republication of the story.
Jed Boal ReportingAfter firefighters put out a wildfire there is still a lot of work to do on the land. The Bureau of Land Management today took to the air to tackle such a project before heavy snow blankets the ground.
In Utah County this summer wildfires ravaged the rugged terrain west of Saratoga Springs. Five separate fires in June, July and August burned more than 400 acres and came within a mile of homes. Today, BLM rehabilitation crews showered the scorched earth with four-thousand pounds of seed.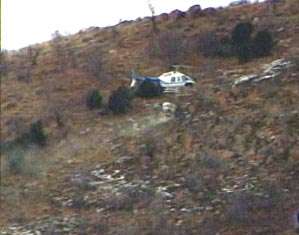 Erin Darboven, Bureau of Land Management: "This is pretty steep terrain, and that's why we're seeding via helicopter today."
It's a big job and the BLM usually likes to get it done before Thanksgiving. But the seed should be OK once heavier snow buries it. The planning for this reseeding started while the fires still burned.
Erin Darboven, Bureau of Land Management: "We have resource specialists that get together and establish a plan on how we will preserve our resources, establish a plan, and start to implement it in the fall after the fire season is completed."
Much of the fuel in each of these fires was cheat grass, a non-native, invasive, very flammable grass. The BLM wants to give the native grasses a chance to take hold before the cheat grass comes back.
Erin Darboven, Bureau of Land Management: "After fire has gone through, it's a prime opportunity for cheat grass to make its stake."
Long-term, the sage and the juniper will come back, but it could take a decade or more for the land to look the way it did before the fires.
×
Most recent Utah stories