Estimated read time: 2-3 minutes
This archived news story is available only for your personal, non-commercial use. Information in the story may be outdated or superseded by additional information. Reading or replaying the story in its archived form does not constitute a republication of the story.
Ed Yeates reporting Even the toughest critics are calling Peter Jackson's final installment of Lord of the Rings the crown jewel of his movie trilogy.
Return of the King opens tonight at midnight to sold out audiences. But for dyed in the wool fans, the movie watching began early this afternoon.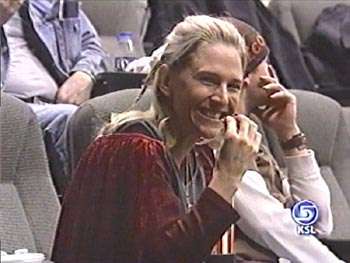 Those who bought into a special trilogy package several months ago, arrived early at Jordan Commons to begin watching all of the Lord of Rings movies in a one day marathon.
For this sold out house, partying just before it all began, these fans will have made this auditorium their home from 1:30 this afternoon, until about 3:30 tomorrow morning. And that doesn't count sleeping over last night or standing in line to get a good seat.
"I'm kind of a closet Lord of the Rings fan. I don't memorize the language or dress up like an elf but it's like the Star Wars of our age."
That obsession for this one day marathon means 14 hours of movie, going with little more than an hour break in between the first two movies . Just enough time to eat, go the restroom, or make a few calls to let family know you're still alive and well. Then it's back to the auditorium again for the final 3 and half hours - Return of the King.
"Sleeping over last night, I didn't get much sleep and this morning just freezing cold - my toes are still numb. I think I'm just going to remember what I went through last night and it will keep me going."
Most of the folks here will have to get up and go to work tomorrow morning.
"Maybe I'll be late for work..(laughs)."
We're not sure whether James Horton, who dressed as Legolas, has school tomorrow. Hope not!
"The way I'm going to keep from getting tired is just watching them. And I'm probably going to have a tummy ache because these movies make you not want to eat. They're just so good you don't want to eat."
Jordan Commons expects record setting crowds over the next few weeks.
One movie critic calls Return of the King a movie's triumphant close to Tolkien's classic fantasy.
×
Most recent Utah stories