Estimated read time: 2-3 minutes
This archived news story is available only for your personal, non-commercial use. Information in the story may be outdated or superseded by additional information. Reading or replaying the story in its archived form does not constitute a republication of the story.
(KSL News) The storm may have tapered off a bit, but problems continue to mount on Tuesday. And topping the list are dangerous roads.
Along the highways wind whipped snow is decreasing visibility and making surfaces slick. And even the slightest bit of new snow makes the situation even worse.
The morning commute was relatively smooth in the Salt Lake area. But in areas of Davis and Weber Counties motorists found it slower-going. Roads were reportedly snow-packed in much of Utah County, as well.
Interstate 15 between Pocatello and the Utah state line is open. Officers say there are still many road hazards with icy spots and drifting snow, so drivers should be careful.
Almost 600 accidents have been reported since Friday, ranging from fender benders to fatal rollovers.
Yesterday, a 36-year-old woman was killed in a crash as she headed north on I-215. She lost control on the overpass above State Road 201. Her car vaulted off and landed 28 feet down on the driver's side.
A driver was thrown from the car and killed in a crash near Coalville. And on I-215 at Redwood three teens survived a roll-over.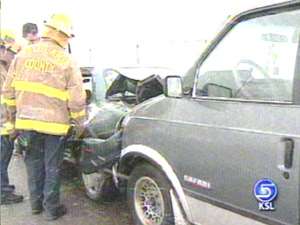 At about the same time, a woman had to be cut out of her car with a neck injury that resulted when her car was rear-ended.
And with more storms rolling in later in the week, troopers are expecting things to get worse before they get better.
Meantime the cost of removing all this snow in Utah is starting to add up.
So far, the Utah Department of Transportation has cleared more than 8.3 million tons of snow from more than 16-thousand lane miles on Utah highways.
Crews have distributed more than 32-thousand tons of salt and more than 25-thousand tons of grit on the highways.
The cost of removing the snow over the past five days is already up to $3.6 million.
×
Most recent Utah stories